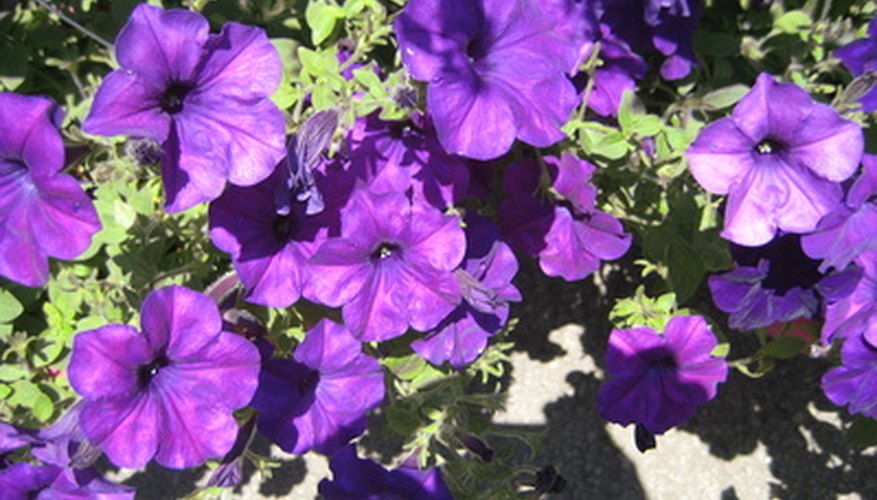 Small gardens have a number of advantages over big gardens. The cost to landscape is less because there's less ground to plant. There's not as much lawn to mow, weeds to pull or flowers to fertilize. Just because a garden is small doesn't mean it can't pack a color punch. Sticking with just two colors, like purple and white, keeps the garden cohesive.
Bulbs
Spring bulbs come in many colors including purple and white. A spring bulb garden doesn't take up much space. It can be over planted with summer flowers to continue the color throughout the growing season. Plant snowdrops and crocus which will bloom early in spring, often peeking up through the snow. Follow up with purple and white hyacinths for a sweet scent. Try purple and white tulips for late spring blooming. Choose smaller varieties for a smaller garden.
Summer
Plant white cosmos, which grow up to 4 feet high, in the center of a small 6 by 8 foot flower bed. Cosmos are tall but have feathery leaves and medium size flowers on thin stems, so visually they don't take up that much space. Surround the cosmos with purple salvia, which reaches 18 inches high. The salvia blooms on spikes to contrast with the round petals of the cosmos. Edge the bed with purple lobelia.
Another combination to try is a purple rose in the center of the bed, surrounded by white geraniums and a border of purple alyssum. Most purple roses are very highly scented. The almost round balls of the geranium blooms contrast with the low-growing small-flowered alyssum. The foliage of the geraniums hide the "ankles" of the rose.
Birdbath Focal Point
If you have a birdbath that's leaky don't throw it out. Use it as the focal point in a small garden. Place it in a shaded corner or under a tree. Most birdbaths are not very deep and when filled with soil will dry out quickly. Shade will help the soil stay moist. Fill the birdbath with potting soil. Place a pot of white impatiens in the center. They will eventually spill over the edges of the pot. Fill the birdbath saucer with white pansies and purple violas. Around the base of the birdbath plant white candytuft.
Another shade combination to use would be purple vinca and white begonias and with hostas at the base of the birdbath.
Think Vertical
Small gardens may not have a lot of horizontal square footage so use every bit of vertical space as possible. Grow vines such as clematis, which comes in white and purple, up a trellis. Sweet peas are another purple flowering vine. Hyacinth beans bloom in purple and pink. Sweet potato vine doesn't flower, but the leaves are a deep purple. White lady banks rose blooms profusely in early summer and then has small green leaves that provide shade.