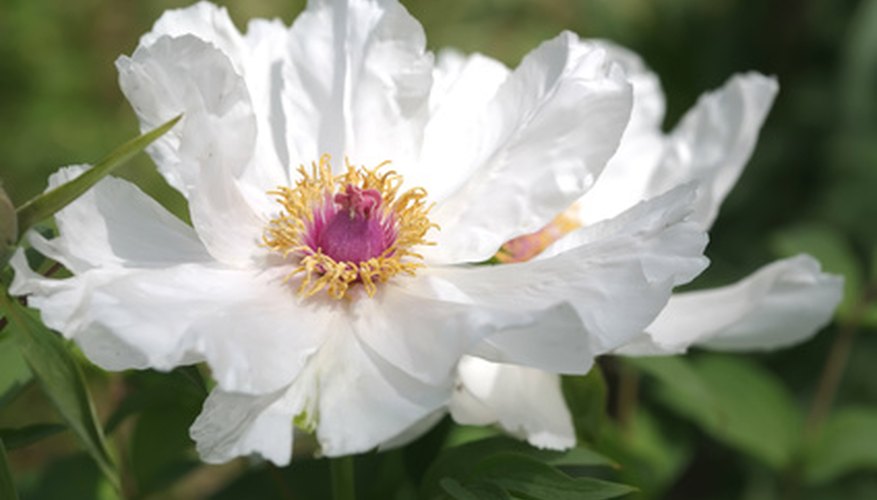 Blooming earlier than the herbaceous peony, species of tree peony (Paeonia spp.) bear their large blooms in mid- to late spring. Tree peonies are slow-growing and long-lived, reaching their mature heights after decades of growth. Five species in particular grow in ornamental garden settings, most of which prosper in U.S. Department of Agriculture Hardiness Zones 4 through 8.
Types
Frequently the species Paeonia suffruticosa earns the most discussion as a garden-worthy tree peony, as it comprises dozens of cultivated varieties (cultivars) with various petal colors or numbers. A short-stemmed species producing nodding flowers is Paeonia potaninii. Bright yellow flowers occur on Paeonia lutea, including the more widely grown Tibetan peony (Paeonia lutea var. ludlowii). Horticulturists genetically crossed Paeonia suffruticosa with Paeonia lutea to form plants with white-to-yellow flowers with red markings and assigned the name Paeonia x lemoinei. Lastly, dark red flowers appear on Paeonia delavayi.
Ornamental Features
The spring-occurring flowers of tree peonies mark the most ornamental quality of these sub-shrubs. Sometimes fragrant, the blossoms range in size from 2 1/2 to 5 inches in diameter and are held on stems above the foliage. Paeonia suffruticosa flowers are largest, from 6 to 12 inches in size. Each is cup-shaped and held horizontally or slightly nodding on the stem tip. While the stems are tan-colored and partially wooded, the leaves persist across the summer, adding a fernlike texture in the garden. Their dark green color with a bluish underside extends across the leaflets, some with deeply cut lobes.
Origins
All five tree peony species hail from China, except for the man-made hybrid Paeonia x lemoinei.
Growing Requirements
Provide tree peonies with conditions nearly similar to herbaceous peonies. Plant them in an organically rich, fertile and moist soil with excellent drainage. Although flowering most abundantly occurs in a full-sun garden site with more than eight hours of sunlight each day, tree peony blossoms last much longer if in a partially shaded location getting four to six hours of shifting light across the day with shade in the heat of the afternoon. Morning light is favored. Even though tree peonies tolerate winter cold from 10 degrees Fahrenheit to nearly 20 degrees in winter, plant them where cold, drying winds do not bombard their dormant stems. These plants resent transplanting, so allow them to grow in the same location for many years to promote healthy specimens.
Hazards
Although tree peony foliage and flowers are not toxic if eaten, ingestion will cause a stomachache. Small children and household pets in particular can develop more acute stomach pains or ailment. Dogs may die after consumption of peony flowers and buds.