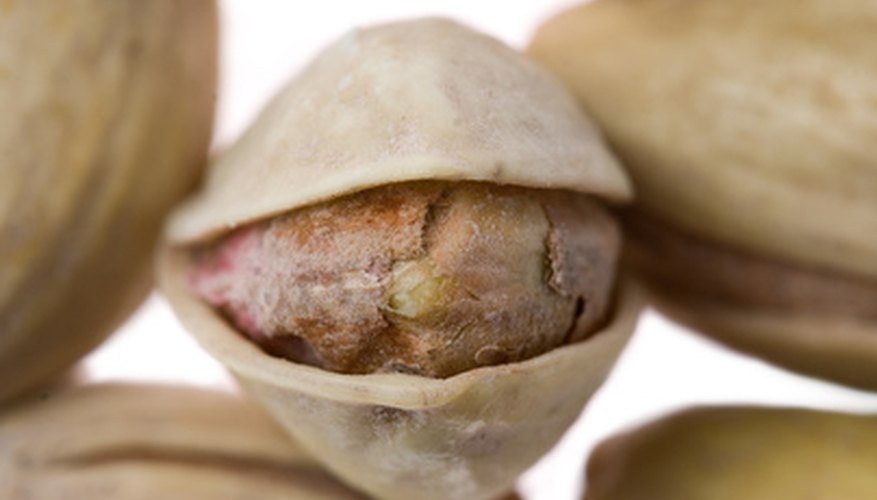 Pistachio trees (Pistacia vera) produce the popular nut that many enjoy as a snack. With its easily removable shell and sweet flavor, the pistachio is a popular import the world over. Currently Iran is the leading supplier of pistachios followed by the United States. In the U.S., most pistachio production occurs in California with small plantations in Arizona, New Mexico and Texas.
Test the pH of the soil in the area you plan on growing the tree. Pistachios do best with a pH of more than 7. If your soil's pH is less than 7, add some lime to the soil and till it in to a depth of 8 inches.
Dig a hole for the tree that is six inches deeper than the plant's container. Fill the hole with water and let it completely drain.
Remove the plant from its container and place it into the hole. Cover the plant with soil so that three inches of soil cover the top of the plant. Leave three inches without soil to act as a tree well. Stomp down the soil with your foot and place more on top until the soil is firm and no longer sinks in with pressure.
Fill the tree well with water and allow the water to completely drain into the soil. If the soil is a well draining soil, then this should take no longer than an hour.
Sprinkle the tree's well with a thin layer of mulch. Mulch is composed of absorbent organic material and will help the soil under the plant remain moist during the hottest parts of the day.
Water the tree whenever its soil dries out to a depth of two inches below the soil line. Water the tree by filling up its well and letting it drain in completely. Repeat the process once more for a thorough deep watering.