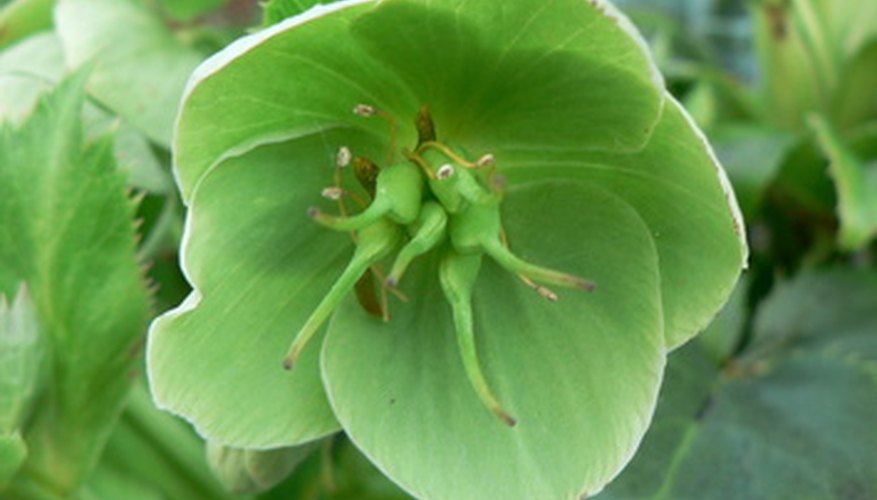 When leaves begin to drop and temperatures begin to fall, hardy, frost-tolerant shrubs and flowers emerge to light up the garden. Most often, fall and winter plants require full sun and well-drained soil that is nutrient-rich to ensure a long blooming season. Grown in dozens of varieties, each with their own distinct color, size and growing requirements, fall- and winter-loving plants provide a respite from winter's gray presence.
October Skies Aster
October skies aster is a perennial flower that emerges in fall and lasts into the winter. October skies asters have a moderate growth rate and spreading habit. The plethora of blue flowers covers the plant to light up the landscape with a bright burst of color. Deer- and frost-tolerant, October skies aster grows 1 to 3 feet tall and wide, and attract butterflies to its showy blooms. Nestled in containers or along a flower bed or border, October skies aster blooms provide a striking presence. In spring, divide the plants to grow in other areas of the garden. October skies aster prefers full sun to partial shade and well-drained soils with a dry to medium moisture content. The USDA Hardiness zone for planting is 4 to 8.
Hellebore
Beginning in late fall to last through winter, the hellebore (Helleborus) emerges. Frost-tolerant, hellebore plants grow 1 to 3 feet tall and wide and are ideal plants to grow in cool climates that reach below freezing. Hellebore leaves are bright green and leather-like. Its blooms grow in a wide range of colors including, green, pink, lavender, white and yellow, and are a much-needed splash of color in winter. Hellebore flowers have a moderate growth rate and are ideal tucked along a shade garden for color and texture. Hellebore plants prefer part to full shade and well-drained soil that is nutrient-rich and neutral to alkaline. Hellebore blooms are tolerant of some heat and humidity, making them adaptable. Cut back plants after the blooming season to create new foliage and growth. Hellebores are easily divided to spread throughout the garden. The zone for planting is 4 to 9.
Winter Daphne
Winter Daphne (Daphne odora "Marginata") is a winter-blooming evergreen shrub that produces fragrant pink flower buds that open to white. Winter Daphne have a moderate growth rate and grow 3 to 4 feet high and 2 to 4 feet wide, ideal nestled along a garden wall or backyard patio. Frost-tolerant, winter Daphne have variegated leaves fringed with yellow for a striking winter shrub. Winter Daphne prefers full sun to part shade and well-drained soil that is fertile and humus-rich. It requires slightly alkaline to acidic soils to thrive and does not tolerate dry soil. The zone for planting is 7 to 9.