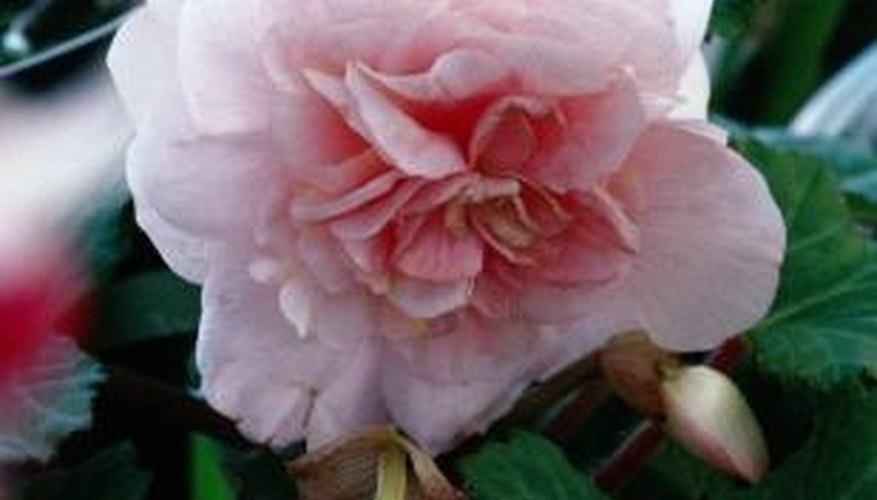 Plant a sweeping area of begonias in the front of a shady bed. Use the smaller tuberous begonias in front, and toward the back, plant angel wings or the grandis. Use the same color of flower and the focus will be on the variety of foliage; some leaves have red veining while others have stripes. The difference in sizes will make a statement in the shade bed.
Mix in the taller begonias with hostas in a semi-shady or shady bed. The play of foliage upon foliage is impressive especially if you use the rhizomatous begonias. These are brightly leaved with soft hairs. The patterns in the leaves swirl and catch any light, creating a dappled display that accents the large, glossy leaves of the hosta.
Fill a planter box or hanging basket with tuberous begonias. They will retain their perennial nature if grown in a warm zone with temperatures averaging at least 70 degrees Fahrenheit. The tuberous begonias have long, jointed canes which will cascade over the edges of a container and display the flowers dangling in the breeze. Plant in a mixture of half peat moss and half potting soil, which will help conserve moisture in the pots.
Tuck the smaller begonias into cracks in a rockery. They will make wonderful surprises as they peek out of the rocks and mix well with shade-loving alpines like Lady's Mantle. The rhizomatous and wax begonias will root easier than the tuberous variety. You may have to supplement the soil in the crack or crevice. Push some compost into the depression and then place the roots of the begonia in. Tamp some more compost around the plant.
Plant perennial begonias in among other flowers in a perennial garden. Add features such as benches and rocks or statuary so there is something in the area after the perennials die back. Pair rhizome-type begonias with ajuga for a foliage duel. Tall angel wing begonia complements a large bleeding heart bush. Use your imagination.
Care for the begonias as you would any warm season plant. Keep them moist and fertilize with a balanced fertilizer in spring. Apply using the manufacturer's recommendations. The begonia is an easy plant to care for that has no special needs and will reward you with brilliant foliage and bright blooms.