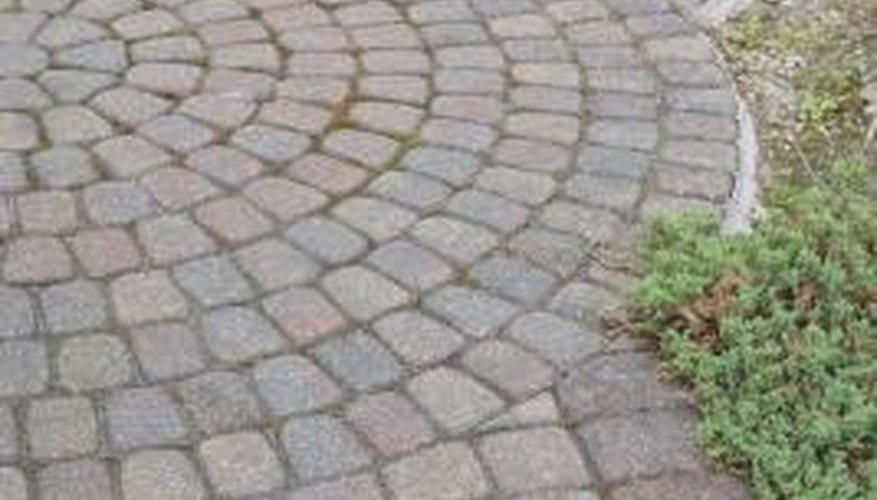 Step 1
Loosen and brush off as much of the salt deposits as possible using a stiff-bristled brush.
Step 2
Spray the pavers thoroughly with a strong stream of water from the hose.
Step 3
Repeat the scrubbing and spraying several times or as needed to eliminate the salt without the use of chemicals. If the efflorescence is occurring because the pavers are new, normal weathering in areas that receive regular rainfall often is sufficient and the efflorescence will disappear within several months. Scrubbing and rinsing will speed up its disappearance.
Step 4
Water the paver bricks well before you apply any acid cleaner. Put on safety goggles, gloves, pants and long sleeves before handling the acid cleaner.
Step 5
Spray or otherwise apply a muriatic acid cleaner labeled for use on the specific paver material evenly and thinly over the paver surface. Prepare a solution that contains no more than one part muriatic acid to 12 parts water. Multiple applications of a weak acid solution will have a greater impact on the salt deposits than one application at super-strength.
Step 6
Scrub the acid cleaner evenly over the paver bricks with a stiff-bristled brush unless otherwise directed by the product manufacturer. Work efficiently and quickly, without being sloppy, so that you can treat the entire area without leaving the chemical sitting for too long in any spots.
Step 7
Spray the acid-treated paver bricks thoroughly with water, making sure to rinse the acid off completely, and use enough water that the acid solution is diluted sufficiently by the time it reaches any nearby vegetation or other structures.