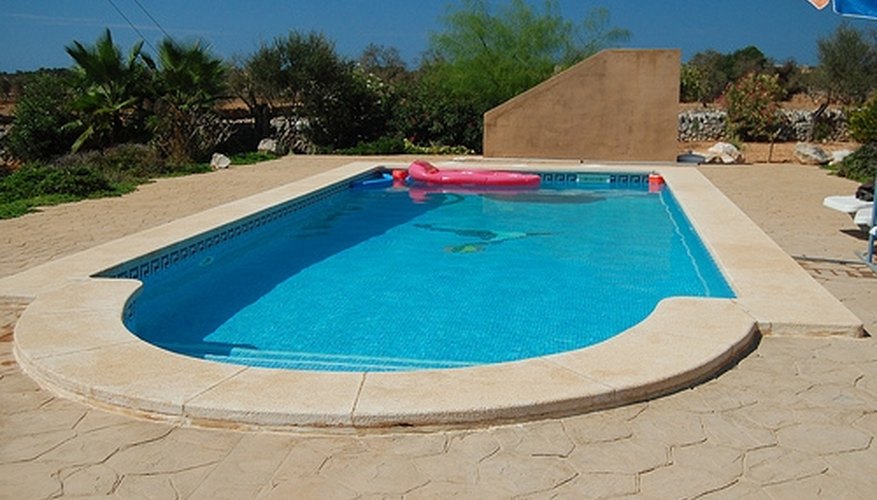 According to PoolPlaza.com, saltwater pool systems, also called chlorine generators, have three main elements: a salt cell, a control box and salt. The salt cell is composed of a series of plates with opposite electrical charges enclosed together. The control box regulates the power going to the cell. The salt is dissolved in the pool water.
A pump forces the salted pool water through the salt cell. When the control box sends power to the cell, electrolysis happens between the plates in the cell. Since salt is made of sodium and chlorine, the chlorine is released into the water. The control box regulates the amount of chlorine released into the water by controlling how long the power stays on. Some automating and self-sensing control boxes turn on the power periodically to regulate the chlorine, and some even reverse the polarity to eliminate scales on the cell plates.
Pool owners must maintain a level of salt in the water of about 3,000 parts per million (ppm). As a comparison, sea water contains about 20,000 ppm, human tears contain about 9,000 ppm, and anything under 6,000 ppm is considered fresh water. People usually cannot even taste the salt in saltwater pools. Salt enables the water to conduct electricity in the salt cell between the plates. If the salt level is too low, the cell stops producing chlorine.
Chlorine
The chlorine level in saltwater pools is usually about 0.5-1.0 ppm, whereas chlorine in conventional pools is more like 3-10 ppm. Regular chlorine pools can be easily converted to saltwater systems because the salt will not harm existing equipment such as heaters, pumps, pool sweepers and most filters, although some metal filters can become corroded from salt. Moreover, a saltwater pool system does not really involve less maintenance than a traditional chlorine pool, but taking care of the water chemistry is different. The pH of the water must be kept low because chlorine loses its ability to sanitize at higher pH levels. For this reason, pool owners must learn an entirely different method for maintaining their pools.
Pros and Cons
Many people prefer saltwater pools in that they are more comfortable because the salt softens the pool water. Therefore red eyes and itchy skin are reduced. In addition, swimwear lasts longer, there is no strong smell of chlorine, algae does not grow as readily and it can save money over time.
However, Steve Bister of Crystal Waters Pool and Spa in Lenexa, Kansas, states that, if algae occurs, the system may need to have a large amount of chlorine added to bring the system back into balance; this is known as shocking. Also, replacing the cell in a saltwater system is expensive, but the less the system has to run, the longer it will last. Sunlight can leach chlorine out of the water; therefore some pools need an added conditioner to remedy the problem.