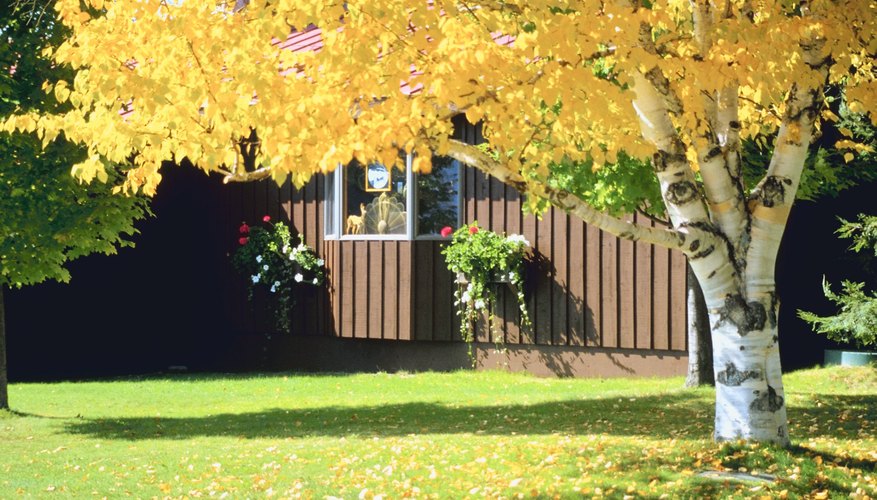 Insecticidal soap is a popular option for controlling soft-bodied tree pests. It disrupts insect cell membranes and clogs pores used for respiration. Tree pests controlled by insecticidal soap include aphids, mealybugs, spider mites, thrips and whiteflies. Though there are numerous recipes available for making insecticidal soap at home, not all use soaps with insecticidal properties, and some may actually harm your tree's foliage. Though commercial brands are formulated to kill pests while protecting plants, you may still choose to make your own at home. If so, they are fairly simple and inexpensive to make and apply.
Type of Soap
When it comes to making insecticidal soap, not all soaps or detergents are created equal. Though you can find recipes which advise using every day dish soap or laundry detergent mixtures, soaps must have a fairly specific formula of fatty acids to have insecticidal properties. In fact, many forms of dish soap are designed to cut grease and may damage the waxy outer-layers of leaves. To determine the effect of a homemade soap concentration on your trees, test it on a small area first, then wait 4 to 7 days before using the solution on the entire tree.
One soap recommended by Ted Swensen, President of the Home Orchard Society in Portland, Oregon is Fels-Naptha laundry soap. In an article in "Mother Earth News," he advises making a concentrate using one quarter of a bar shaved into a quart of warm water. Use one teaspoon of concentrate per quart of water and apply with a sprayer.
In a 2003 edition of the Ohio Florists Association Bulletin, Dr. Raymond Cloyd of the National Soybean Laboratory says Palmolive®, Dawn®, Joy,® Ivory® and Dove® soap solutions can be effective against aphids, whitefly and spidermites. He also recommended using Ivory® liquid dish soap or Tide® laundry detergent against thrips, citrus red mites and aphids in a 1 to 2 percent concentration of soap to water.
Type of Water
Hard water, according to Rodale's "Chemical-Free Yard and Garden," can react with the fatty acids in insecticidal soap, reducing its efficacy and possibly causing leaf damage. If your tap water is hard, Mother Earth News recommends using distilled water or rainwater in your insecticidal soap solution. Washington State University Extension says conditioning hard water with a conditioning agent such as Calgon will work as well. They say to test your water for hardness, simply mix your soap solution with your tap water in a jar and let stand for 15 minutes. If it develops a film or scum on the surface, your water is too hard.
Application
Good tree coverage is essential to the efficacy of insecticidal soap, as direct contact with each insect is needed. Using a sprayer, make sure to soak as many leaves as possible on both sides. Washington State University Extension recommends spraying during cooler hours, in the early morning or evening to allow the solution to remain wet for a longer period of time. Insecticidal soap loses it's effect when it dries.