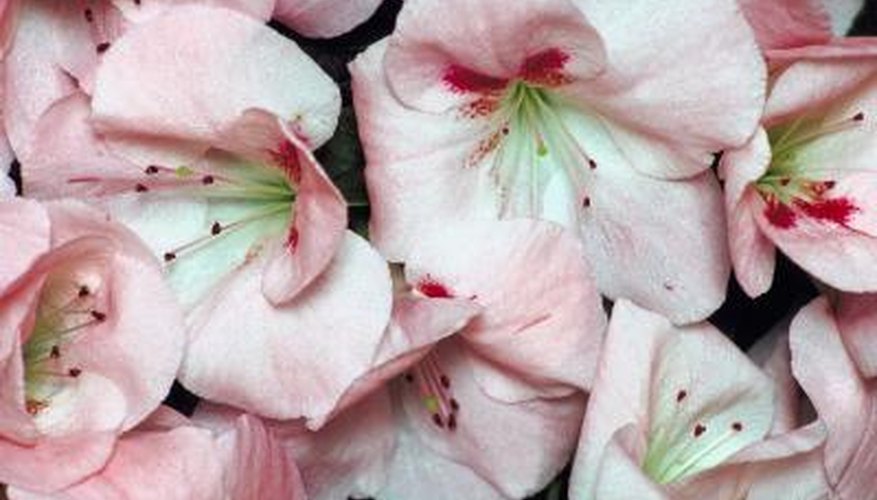 Azaleas, members of the rhododendron family, are attractive shrubs and reliable bloomers which enliven spring lawns and landscapes with their vibrantly-colored flowers. One type of azalea, the rare pinkish-purple r. canadense, was immortalized by the poet Ralph Waldo Emerson. You don't have to be a poet, however, to appreciate the beauty and versatility of azaleas. With proper feeding and fertilization, you can help your azalea thrive and bloom.
Azalea Features
All azaleas are either evergreen or deciduous, a characteristic that determines the color of their blooms. Colors of evergreen azalea flowers range from white to red to deep purple, while the blossoms of deciduous azaleas range from white to pink to red and--unlike the evergreens--include yellow to orange and red shades. Because they are easier to propagate, evergreen azaleas are more common than deciduous. Azaleas bloom from mid-March to June, depending on variety and climate conditions. By finding out when different varieties bloom, you can maximize color impact in your garden by selecting azaleas with staggered flowering times.
Azalea Care and Fertilization
The best time to feed azaleas is in the spring after they have dropped their blooms. Use a slow release nitrogen fertilizer to stimulate good growth during the summer; two months later, apply an acidic fertilizer like Holly-tone. Repeat the application of Holly-tone in six weeks, and remember to feed azaleas before you prune, not after. You can also provide your azaleas with needed nutrients and protect their shallow roots by mulching with pine needle mulch; its acidic quality makes it ideal for azaleas. Azaleas do best with eastern light or filtered shade. If the planting site gets a lot of sun, try planting thicker-leaved azaleas, which are more tolerant of bright light. Water your azaleas during extended dry spells; to ensure good drainage, elevate azalea beds. If the leaves yellow or the azalea doesn't thrive, have your soil tested for nitrogen, phosphorus and potassium, and amend it as needed.
Tips and Precautions
Visit a nursery or arboretum with many types of azaleas in bloom to determine the color shades and blooming times that best suit you. To avoid cutting off next year's buds, don't prune your azaleas after midsummer. Azalea lacebugs sometimes cause leaves to turn whitish or yellow. To control them, spray the undersides of leaves with diluted soapy water.
References
Resources