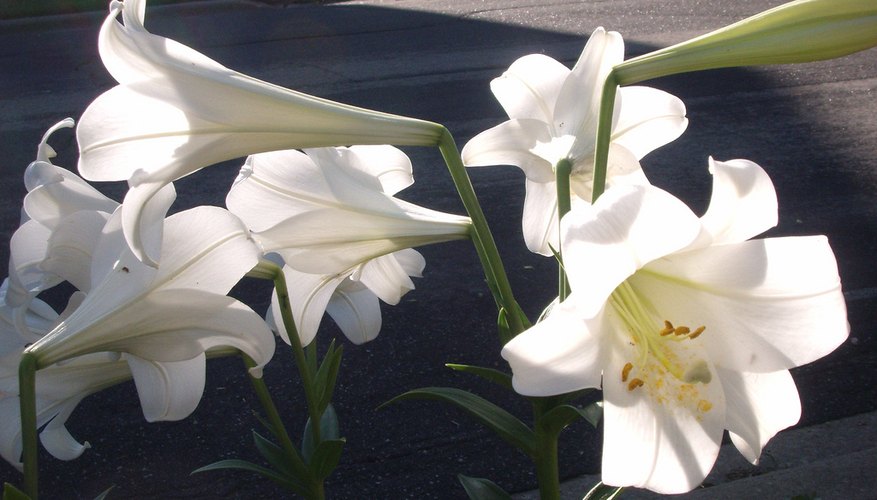 Most Easter lilies are acquired during the Easter season. Although that isn't their natural blooming time, savvy growers have learned to successfully force the gorgeous plants to display their splendor just in time for Easter morning. The exquisite, fragrant, pristine trumpet-shaped blooms each last only a few short days, but they're breathtakingly beautiful while they're here. It's a shame that most the them are destined to end up in the compost heap or a landfill somewhere, since you can easily enjoy Easter lilies for many years to come.
Choose your Easter lily carefully. Look for a medium or compact sized plant, one that's proportional in appearance. A very tall, rangy specimen isn't the healthiest, and it won't be very appealing. Select a lily with maybe one or two partially or fully opened flowers, and plump unopened buds of all different sizes. This will give you maximum blooming time. Foliage should be dense, abundant and rich dark green, adorning the plant completely down to the surface of the soil. Avoid a plant that is wilted, or one with waterlogged soil, indications of potential root rot.
Remove the protective sleeve from the potted Easter lily immediately. The plant will quickly deteriorate if the sleeve is left in place too long, no matter how pretty it might be. Also, Easter lilies are usually shipped in decorative plastic or foil pot covers. Take that thing off, it's a killer. Pot covers don't allow for drainage. If you feel that you absolutely must dress the specimen up for holiday appearances, put it back on the pot when company arrives. Just make sure to remove it immediately after their departure.
Set your Easter lily in a cool location where it will receive plenty of bright, indirect natural light. Avoid direct sun, drafts and artificial dry heat or air, such as that produced by fireplaces or heaters. The ideal daytime temperature for these plants is 60 to 65 degrees F, and a little cooler at night.
Water the Easter lily thoroughly only when the surface of the soil feels dry to your very light touch. It should be uniformly moist, but never soggy or wet. These plants don't like wet feet, and excessive moisture encourages root rot.
Cut blooms from the lily when they're spent. You can move it to a sunny spot when all of the blooms have been removed. Continue watering as before. Begin feeding the plant a slow-release flowering bulb fertilizer once every 6 weeks as per the packaging instructions.
Plant your Easter lily outdoors in a well-drained, sunny location when all danger of frost has passed. Dig a hole a little larger than the current container, and add bulb fertilizer to the backfill soil according to the manufacturer's instructions.
Gently spread the roots out and position the plant's bulb in the hole so that it will be about 3 inches below ground level. Replace the enriched backfill, gently firming around the roots and bulb little by little to eliminate any air pockets. Mound an additional 3 inches of soil over the bulb. Apply a layer of mulch, because Easter lilies like their heads in the sun and their roots in the shade.
Water thoroughly, taking care not to displace the mounded soil. The plant will continue to thrive and grow until the arrival of summer. Continue to water the lily enough to evenly moisten the soil throughout the growing season. Be sure to allow it to dry out slightly before watering again.
Cut the plant's original stems down to the ground as they die back. They'll soon be replaced by new shoots. It's natural for Easter lilies to bloom during the summer, not in March as they're forced to do by growers. So it's possible for the plant to bloom once more later this summer, but it's more likely to wait until June or July of next year. The lily will die back naturally late this summer.
Feed the Easter lily blood meal once in the fall per the manufacturer's instructions. Work it gently into the soil, and try not to disturb the slumbering plant's roots. Apply a thick protective layer of mulch to lilies in very cold regions, and your lily will survive even the most brutal winter. Leaves, pine needles, straw or ground corn cob are good choices. Carefully remove the mulch in the spring to invite the emergence of brand new shoots.