For the past month or so I've been dreaming about privacy hedges and trees morning, noon and night. I know, it's kind of weird, huh? The things is, we've always had a fence. But the house we just bought a few weeks ago doesn't have one, and to be completely honest, I don't think it would look good with one.
So that puts me in sort of a pickle.
I like privacy — a lot. But planting rows of privacy trees or shrubs around the perimeter of our property is going to be a big investment, so I want to get it right…the first time.
My all-time favorite privacy tree is the Green Giant arborvitae. Big green can reach up to 50 feet tall and be up to 15 feet wide (wowza!). These trees are typically found in the backyards of estate-style homes and in English gardens. If you don't have that much property (or hello, a private gardener) you'll want to look for something a wee bit shorter, such as the Emerald Green arborvitae, as these trees typically grow only to a height of 12 feet and width of 3 feet, making them are a bit more manageable for the home gardener.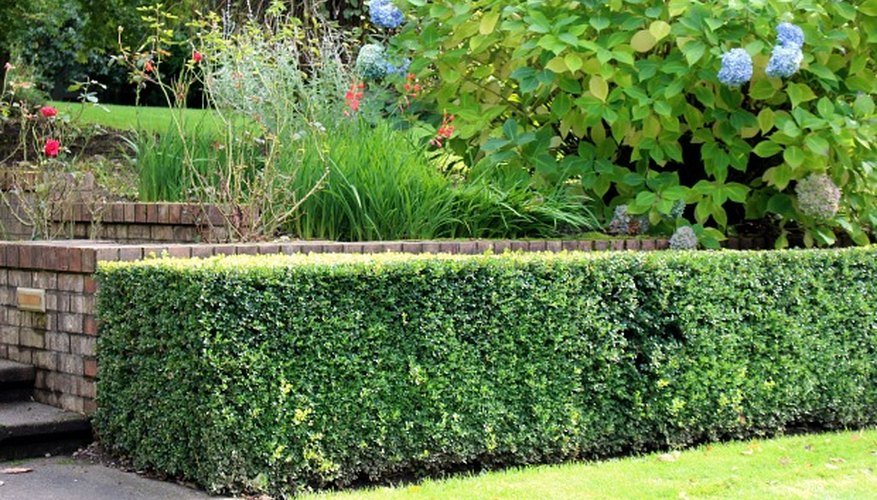 Another candidate for my side yard is a pruned boxwood hedge. These hedges look sharp and give privacy as well; however, they are slow growing. American boxwoods can reach up to 20 feet tall, while their friends, English boxwoods, are a bit more civilized, with a maximum height of just 3 feet, making them suitable for walkways and under windows in the front of your home.
The cherry laurel is pretty rad too. We have a small row of these planted in our backyard right now, and I'm thinking a few more along the sides of the house would make a nice addition. Plus, cherry laurels hide pesky electrical boxes and garbage cans if you live in suburbia. However, these too can can reach 20 to 40 feet tall if you don't keep them trimmed.
The bottom line: No matter what type of privacy hedge I plant, I'm going to need a seriously good pair of trimmers.
Do you have a favorite fast growing tree or hedge you can recommend? Any tips you've learned over the years you want to share?
~Mavis
All photos courtesy of Mavis Butterfield