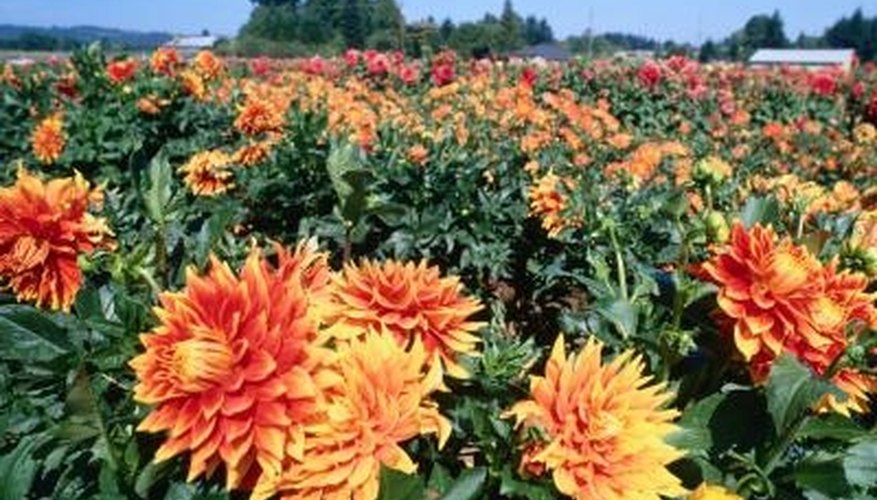 Dahlia flowers come in a wide range of bright colors, shapes and sizes. Many people grow them for cut flower arrangements or to add color to a home garden or landscape. They grow from bulbs, and many gardeners find them relatively easy to care for with a little bit of information about the plants.
Colors
Dahlias come in many colors, including white, red, pink, orange, purple and yellow. The flowers can have all one solid color, stripes of different colors, or petals with tips in a different color than the rest of the flower.
Sizes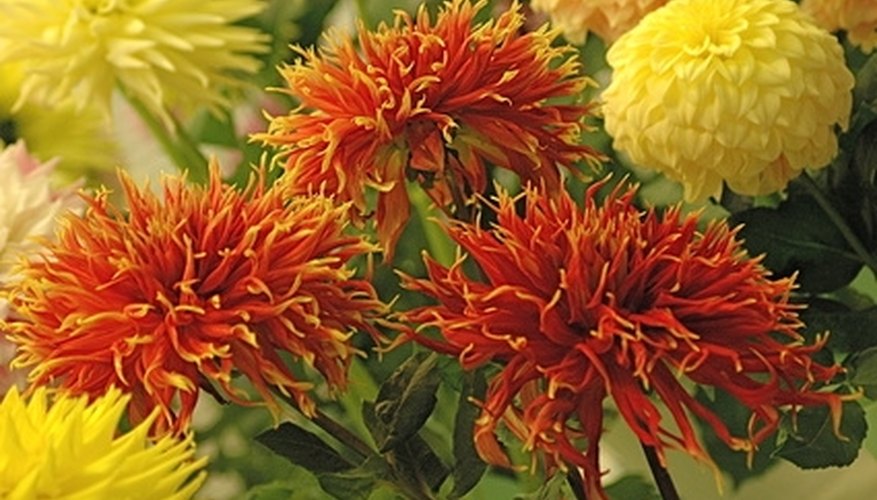 Dahlia plants range in height from 1 to 6 feet. Their flowers also vary in size, from 2 to 12 inches across. Dahlias with large flowers usually have four or fewer flowers per plant. Gardeners who want lots of flowers on the same plant should grow smaller varieties of dahlias, with blooms smaller than 6 inches. Some dahlias have a spread-out shape with longer petals, while others have a rounder shape with dense and short petals.
Growth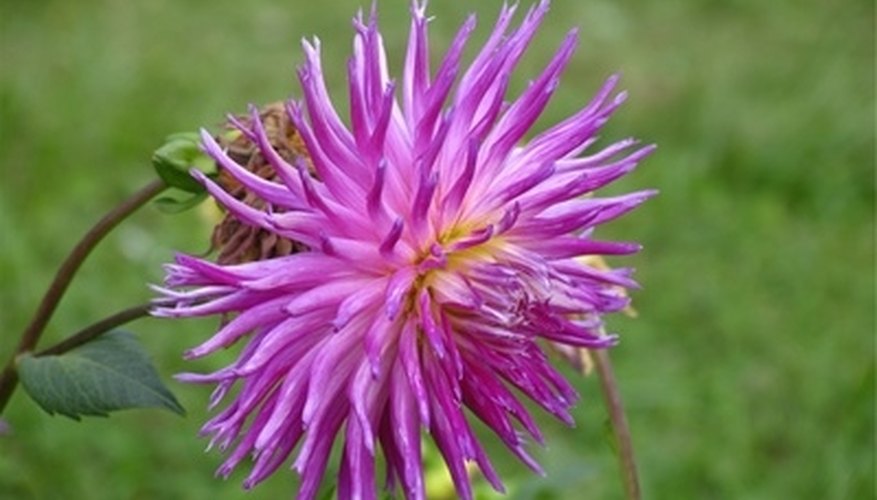 Dahlias grow from bulbs and flower during the summer. They require springtime planting to bloom during the summer. Gardeners should plant them in soil with good drainage and keep the soil moist. Dahlias in most of the U.S. grow best in full sunlight, although gardeners in extremely hot areas should plant them in areas with some shade during the hottest afternoon sun.
Geography
Dahlias bulbs only survive winters underground in warm areas. They are hardy to USDA plant hardiness zone 8. This hardiness zone requirement means that they can only survive in areas with minimum winter temperatures as cold as 20 degrees Fahrenheit, such as Austin, Texas. Gardeners in cooler areas can dig them out of the ground after they bloom during the summer, dry them out, store them in 45- to 55-degree temperatures, and replant them the following spring.
History
Dahlias originated in mountainous areas of Mexico. A Swedish botanist discovered the flowers. Nowadays, there are almost 2,000 varieties of dahlias, many of which have been bred for their aesthetic characteristics.