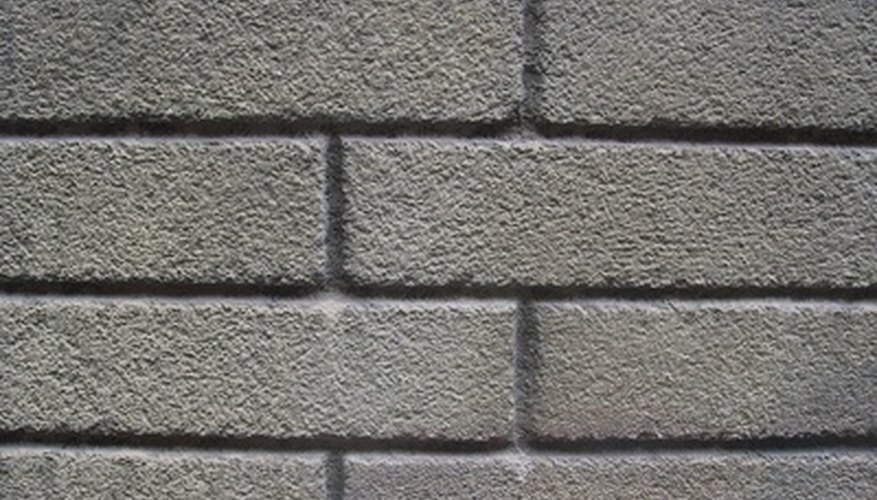 Find fake or faux veneers and facades for your home exterior and roof in a variety of finishes and designs. Use faux finishes in stone to create a natural look, or apply fake brick exterior for a classic aesthetic. Faux options are also available for your roof to replace traditional asphalt shingles. Factor in your climate as well as the intended design before purchasing and installing faux materials.
Synthetic Slate
For an attractive and eco-friendly roofing option install synthetic slate. The synthetic tiles can withstand not only a range of temperatures, but also snow and freezing rain. In colder climates, incorporate a roof guard or rail guard to keep clumps of ice and snow from falling onto passersby. Recycled slate tiles come in a variety of colors to complement the color and architectural style of your home. Synthetic slate roofing is sold as individual tiles and is installed in an overlapping manner, much like traditional roof shingles.
Stone
Concrete adapts well to various home and garden applications. Centurion stone is a faux or fake facade exterior building covering composed of cement. The product is made to resemble true stone and is produced in a variety of colors and textures, including irregular-shaped rock designs to streamlined rectangular stone looks. Molds are created from natural stone. Cement or concrete is dyed and poured into the molds. Most fake stone products are installed directly over plywood; however, take care to weatherproof your home first.
Brick
Brick homes are generally expensive to build as they require an expert mason to construct them. To achieve the same look with a fraction of the cost and maintenance, finish your home with faux brick. Finishes range from worn brick styles to elegant, straight-edge red brick varieties. "Thin Brick" by Boulder Creek is a 1/2-inch product installed by the professional or homeowner. Because faux brick is manufactured, it is available in some colors and hues which do not occur in true brick. Many fake brick interior options are available as well, so purchase the exterior brick panels that are specifically designed to withstand the elements.