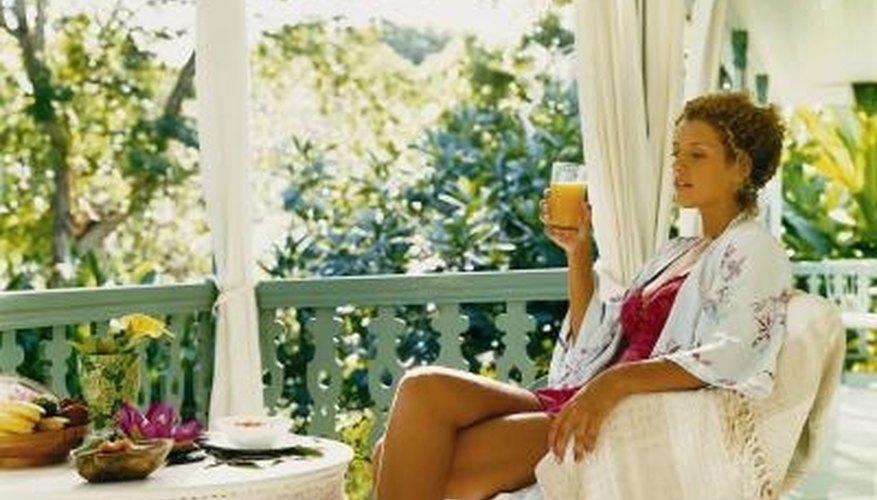 Cement is mixed with an aggregate, such as gravel, to make sturdy concrete -- a material that is often used for porch floors because it is a quicker, easier and more budget-friendly alternative than other porch materials. A slab of plain concrete is typically a very dull color, which may make a home seem plain. Concrete can be modified to achieve an expensive look at a fraction of the cost of other porch materials.
Cover It
If you just moved into your home and inherited a plain concrete porch, it can be concealed in a number of ways. Perhaps the most affordable way is to lay indoor/outdoor carpet over the concrete. Many homeowners prefer this method because the carpet doubles as a way to wipe dirty shoes before entering the home. Depending on the size of the porch, an area rug can be placed on the floor. Stone, tile or brick paving stones can be laid over a clean, pressure-washed concrete surface. Spread mortar over the concrete and then place the stones into the mortar. Once the stones are arranged in the desired pattern, fill the joints with sand or a polymeric sand that hardens as a mortar after it gets wet.
Painting
Concrete porches are ideal for painting, whether you wish to paint a solid color or a detailed mural. They can be painted with epoxy concrete stain, polyurethane paint or exterior latex acrylic paint. Use latex paint for detailed paint jobs; latex paint fades quickly and requires touch-ups after a few years, but a polyurethane seal makes them last longer. Polyurethane paint and epoxy stains are weather resistant, but very slippery when wet. Mix sand with these paints to increase traction. You can paint the designs or pictures freehand, or use stencils to transfer the designs to the porch. You can find a wide variety of stencils at any craft store.
Stamping
Stamp concrete porches while the concrete is still wet to leave impressions in the porch. Stamping allows you to achieve the look of expensive materials like brick and tile, but at the lower cost of a concrete porch. If the concrete is already hardened and cured, it can be engraved to show the same types of look. Tools fitted with diamond-strength blades carve out the concrete to give the look of grout between tiles. After you have finished stamping or engraving the porch, you can paint the concrete to make the porch look even more like the tiles or bricks.
Brushed Texture
While the high-sheen polish that some concrete finishers achieve is an impressive look, this is not the ideal finish for a walking surface such as a porch. A concrete porch with a sleek finish would be even more slippery if the porch isn't covered, because rain and ice are more likely to settle on the surface. Concrete porches can be texture finished with a broom to make it easier to walk without slipping. When the concrete is still wet, brush a stiff-bristled push broom over the porch to leave narrow grooves and ridges over the walking surface. You can control the broom to create straight lines, curves and zigzagged lines.