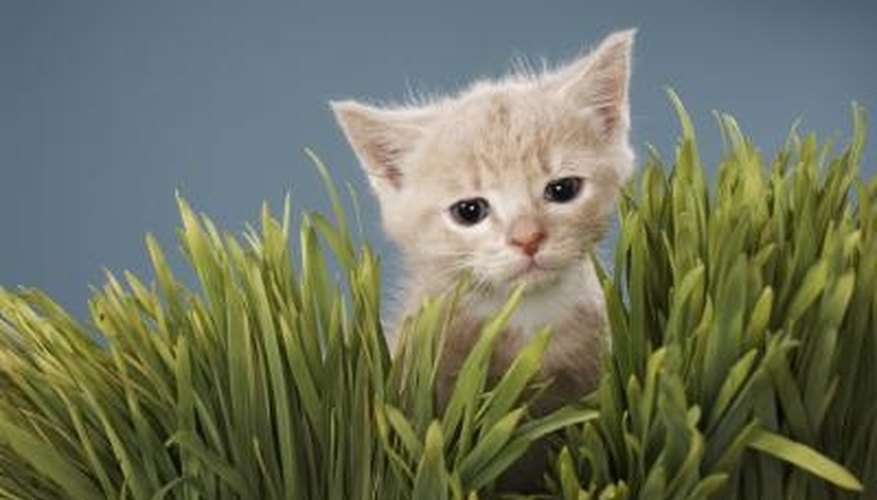 Cats sometimes eat houseplants to ease cravings. Cats that live in the wild ingest plant materials from the digestive tract of their prey. This may lead non-hunting cats to crave plant materials. Other theories suggest that cats simply enjoy the feel of plant material or ingest it to remove hair balls. Indoor cats may attempt to eat houseplants, but some are toxic. Replacing houseplants with an edible grass cats enjoy eliminates the dangers of poisoning.
Cat Grass
Cat grass is a type of cereal grass that can be grown indoors and fed to cats. Cat grass is typically grown from wheat, rye, oat or barley seeds, or a combination, such as wheat and oat. Cat grass kits or seeds can be purchased from some pet supply stores and farmers markets. Kits generally consist of seeds that are pre-planted in a container.
Benefits
Cats need a balanced diet for optimal health, but may not obtain all the nutrients they need from dry cat foods. Cat grass provides fiber and vitamins that may otherwise be lacking. The fiber provided from cat grass also prevents the formation of hairballs, which form in a cat's stomach or intestines as a result of grooming. Cat grass is non-toxic to cats, so replacing houseplants with it allows the cat to enjoy eating greens without negative consequences.
Growing Cat Grass
Growing cat grass is relatively easy. Simply water the soil well with cool water (if using a cat grass kit) and set the container in a dark room. If growing the cat grass from loose seeds, plant the seeds in a layer of sterile soil in an aluminum pan, covering them with about 1/4 inch of soil. Water the soil well with cool water and then set the pan in a dark room. Once the cat grass begins to sprout, move the container or pan to a sunny location as the grass continues to grow. Keep the soil moist by watering lightly every day. If desired, cover the sprouted grass with a plastic cover to increase the humidity. Remove the cover when the grass reaches 3 to 4 inches in height. The grass is ready in about a week.
Plant Poisoning
Cat grasses are non-toxic, but if a cat has ingested houseplants, watch for the signs of poisoning. Signs include stomach pains, vomiting, diarrhea, muscle tremors, listlessness, lack of coordination and fever. Call your veterinarian right away if you notice any of these reactions. Never allow a cat to nibble houseplants, but offer cat grass. Do not let cat grass or other treats exceed 10 to 15 percent of the cat's daily diet.