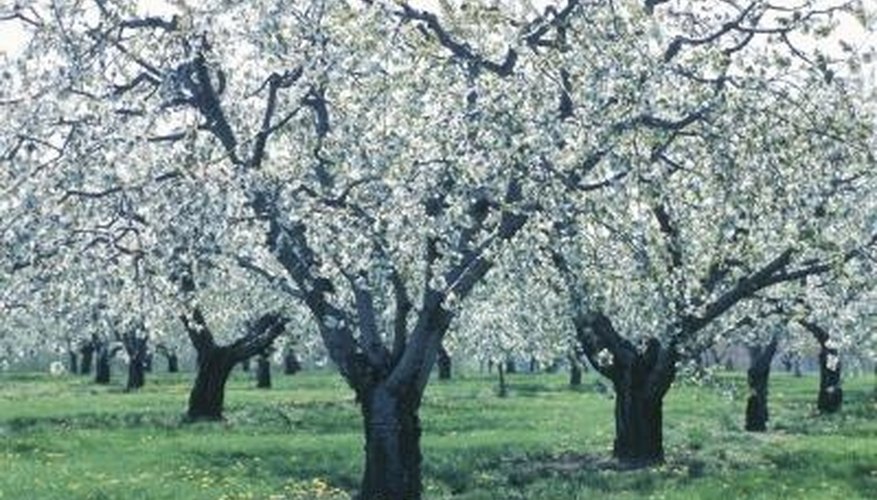 If you have a desire to grow your own apples, there are a few things that can increase your chances of success. All apple varieties, even varieties that set fruit with their own pollen, produce more fruit when cross-pollinated with another variety. Most apple varieties require pollen from another variety in order to set fruit. Your chances for producing an abundant crop of apples increases when you select two or more varieties and plant them close enough to cross-pollinate each other.
Choosing Compatible Varieties
Apple varieties flower at different times of the pollinating season. Some varieties like Empire and Honeycrisp flower early in the season; Fuji and Braeburn flower toward the end of the pollinating season. Knowing when an apple variety flowers will determine the variety you want to use to cross-pollinate. Crab apple trees can also be used as cross-pollinators. Manchurian crab apple trees are recommended for early-flowering varieties by the University of Missouri Extension; Snowdrift crab apples work better for mid-to-late-season flowering varieties.
Self-Pollinating Varieties
Some apple varieties can produce some fruit from their own pollen. These varieties may also be called "self-fruiting" apple trees. Even these varieties will produce a better harvest if a cross-pollinator is introduced. If you have limited space and can only plant one apple tree, consider one of these varieties: Jonathan, Jonagold, Golden Delicious, Rome, Granny Smith, Liberty or Empire.
Recommended Pairings
North Carolina's Cooperative Extension Service lists some pairings of apple varieties that work well for cross-pollination. Gala apple trees pair well with Golden Delicious. Braeburn, Rome and Fuji varieties work well with each other; using any two of these varieties will produce a good harvest. Jonagold is "self-fruiting," but benefits from planting an Empire or Gala variety close by. The pollen produced by Jonagold trees is sterile to other varieties; it is best to introduce a third variety if you want apples on all of your trees.
Pollination Distances and Sources
Planting distances for effective cross-pollination depend on the size of the apple tree. Dwarf apple trees should be 20 feet apart. Larger apple trees can be planted up to 50 feet apart and still pollinate well. Crab apple trees can be effective up to 100 feet away. Honeybees are one of the best pollinators of apple trees; it's best to avoid insecticides that can harm or kill honeybees while apple trees are flowering.