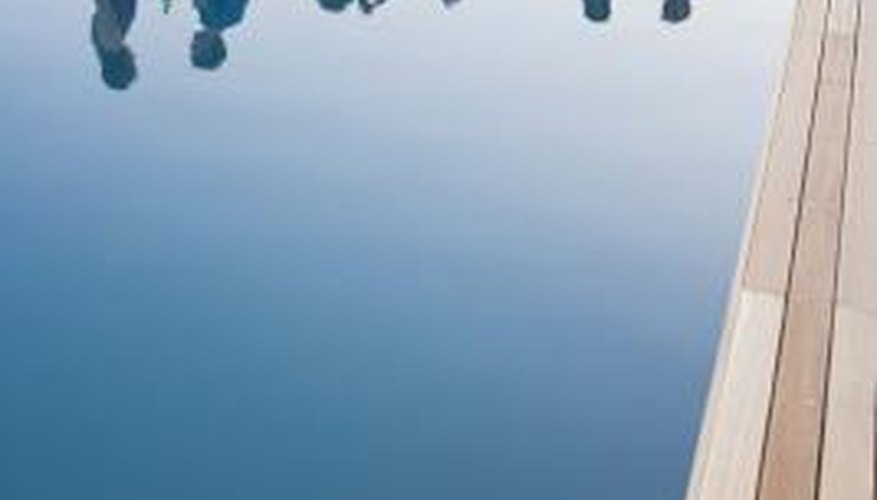 If you have a swimming pool, you must follow a regular maintenance program to keep it in good condition. However, at some point, every pool needs resurfacing to maintain its waterproof finish and prolong its life. You can use different products for resurfacing your pool. If you notice cracks or blisters on your pool surface, you should complete the job before it deteriorates.
Chemical Epoxy
One of the cheapest ways to resurface a pool is to use a product designed to be applied to the existing pool surface. You should clean the old surface using a high pressure spray and repair small cracks or holes before applying this type of product. Applied in two or more coats, these products contain epoxy resin and a bonding agent to provide a finish that lasts between 10 to 15 years. Ultra guard and Aqua guard are two chemical resurfacing products. Pools with a great deal of surface damage may be unsuitable for this type of resurfacing product.
Plaster
You can use plaster to resurface concrete pools with tile or existing plaster surfaces. The process involves removing the existing surface, or chemically cleaning and repairing it. You use cement as a bonding agent, apply the plaster, then use a final top coat of plaster to provide a smooth finish. You then refill the pool, but it should not be used until the plaster dust -- which may appear on the surface a day or two after completion -- has been removed. White plaster appears blue after filling, however, you can choose from a variety of colors and finishes.
Fiberglass
You can use fiberglass sheets to clad the surface of a pool once it has been prepared. The preparation involves gutting a groove all the way around the pool, so it can take some time. You must fit the sheets accurately, a process that is more difficult with custom-shaped pools. Guarantees for this type of product typically last five years. Once fitted, it can be difficult to replace fiberglass, although minor repairs are possible using special fiberglass gel products.
Tiles
Resurfacing a pool with ceramic tiles can be very expensive and requires skill and experience in pool resurfacing. You can customize tiled swimming pools to suit your individual preferences and many finishes are available. With regular maintenance, a titled surface can last at least 25 years.