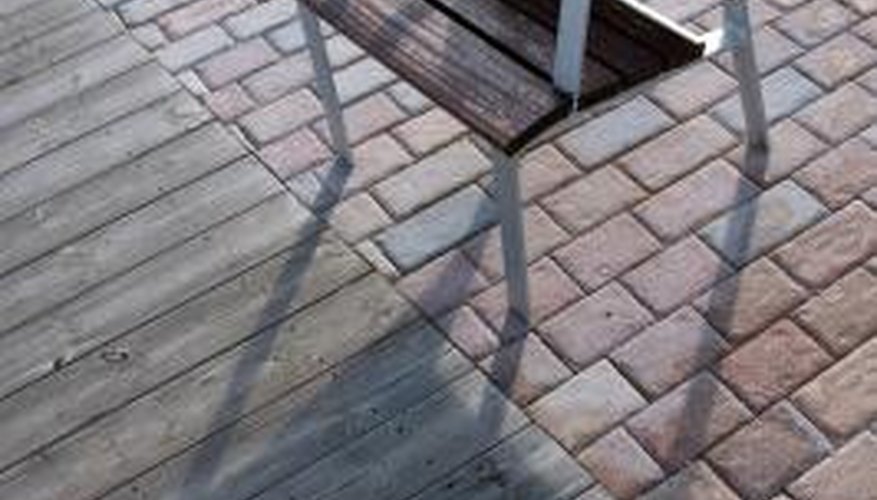 When looking for a material that's easy to work with, durable and visually attractive, many homeowners turn to brick pavers. Useful for creating backyard patios, walkways and play areas, brick pavers are versatile and stylish. Instead of paying full price, however, you can save big bucks by purchasing discontinued brick pavers at a substantial discount.
Where to Buy
Discontinued brick pavers can be purchased from a variety of sources. Check with local home improvement stores, hardware stores and home improvement contractors for pavers that are no longer available for order. Scour garage sales, flea markets and classified advertisements as well. If you're savvy enough to locate and contact the original manufacturers of the pavers, it's likely that they will have excess stock from lines of pavers that have been discontinued and be glad to get rid of them at a reduced price.
When to Buy
While it's possible to purchase discontinued brick pavers year round, there are times when it's more likely to find a bargain. In the springtime, you may be able to buy pavers that were discontinued the year before and never sold. Eager to rid themselves of old stock and make room for new, merchants may slash their prices to rock bottom. Fall is another opportune time to buy closeout pavers as vendors may not want them on hand throughout the winter and could be eager to get rid of them.
What to Buy
Before purchasing discontinued brick pavers, calculate how many you will need to complete the project you have planned in its entirety. Multiply the width of the area by the length to arrive at the correct figure in square feet. Running out of discontinued pavers halfway through the project could be disastrous because it may be impossible to locate the additional goods needed. Make sure that you can purchase that amount and a bit extra in case you run into problems.
Maintaining Brick Pavers
When you purchase discontinued brick pavers for a project, it's essential that you care for them properly. Since it may be hard to impossible to replace them, unless you've purchased a stock of extras, you want to ensure their longevity. Avoid using harsh chemicals to clean the pavers as it may cause them to erode. Instead, use warm water and a mild detergent with a scrub brush. In winter, use only ice melt products that are free from calcium chloride. Opt for versions that are safe for use on brick and cement.