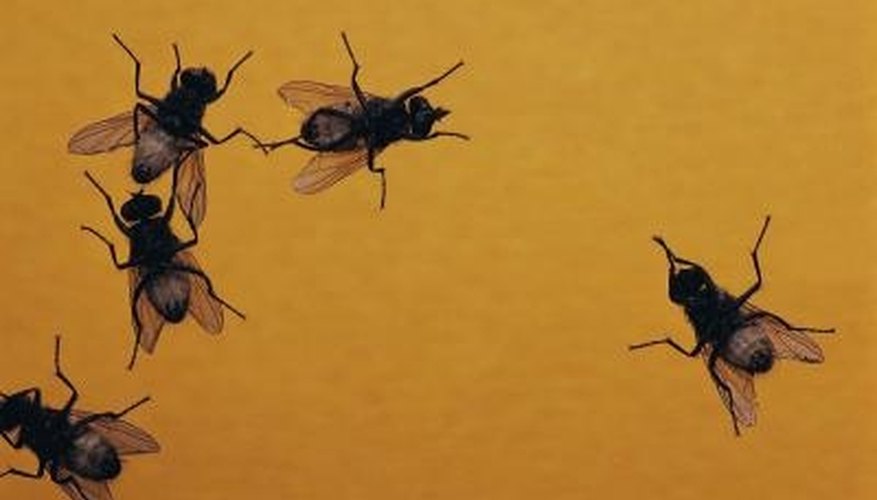 Gnats are small flies that are a source of nuisance in homes and gardens. They reproduce quickly and must be controlled, as they can infest your house in swarms. Fruit flies are common gnats that infest homes in search of food. As these insects generally hover around fruits and vegetables in your house, you must combine preventive tactics with safe, non-toxic elimination measures to effectively eradicate them.
Prevention
Fix tight-fitting wire mesh screens on windows and doors to prevent fruit flies from entering the house.
Eat or discard ripened or cut fruits before they attract the fruit flies. Throw away cracked or damaged portions of fruits and vegetables to prevent fruit flies from laying eggs in the damaged sections. Fruit flies lay eggs in fermenting fruit, and their larvae feed upon the fruit when they hatch.
Line your garbage bin with plastic garbage bags. Empty the garbage bin regularly and keep it covered at all times. This will prevent gnats from colonizing garbage bins and feeding on the organic waste.
Elimination
Trap and kill the fruit flies with vinegar bait. Add 3 oz. of cider vinegar to a wide-brimmed glass jar.
Prepare a paper funnel by rolling a sheet of plain paper in the shape of a funnel. Place it over the mouth of the jar, such that the narrow end of the funnel is around two inches above the vinegar.
Place the jar in the area inhabited by fruit flies to attract them to the vinegar, which will kill them.
Dispose the dead fruit flies after a sufficient number have collected in the jar. Replace the vinegar in the glass jar proportionately.