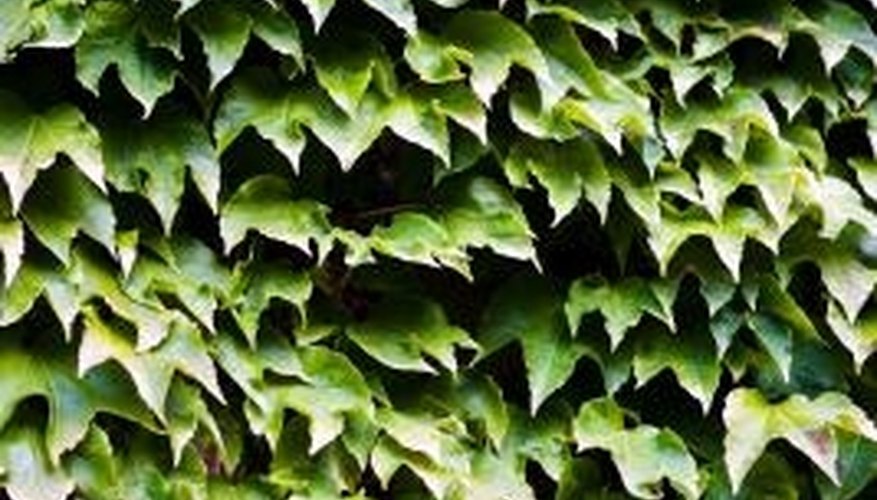 Although some people consider ivy growing on a tree as beautiful or rustic, ivy can actually present a danger to the tree. Ivy helps hold moisture close to the tree's bark, which increases the likelihood of insect infestation and fungal growth. The weight of the ivy can damage young limbs and restrict the tree's growth as well. To prevent damage to the tree, remove ivy not only from the tree but also from the ground around it.
Wedge a screwdriver or other metal lever between a thick ivy vine and the trunk of the tree at eye level. Pry the vine away from the tree enough to cut through it without cutting into the tree trunk. Use a folding saw if the vine is too thick to cut with pruning shears.
Work your way around the trunk of the tree, prying the vines loose enough to cut them at eye level. Continue cutting vines until you reach your starting point.
Pry loose and cut one of the vines again, this time at approximately ankle level. Work your way around the tree again until you've cut all of the vines twice, once at eye level and once close to the tree's roots.
Peel back the ivy as best you can, starting from the eye-level cuts and peeling the vines down the tree. This prevents the cut portions of the vines from reconnecting and healing, ensuring that the ivy in the tree will die. Remove any vines that you can without damaging the tree bark. Peel back the vines near the bottom cuts as well to prevent healing.
Wait for the ivy to begin dying and drying out. Living ivy clings to the bark of trees with a substance similar to glue, and pulling the ivy off of a tree while it's still alive can damage the bark. Once it has died, this gluelike substance dries out and the ivy is much easier to remove.
Remove any remaining dead ivy on the tree trunk by peeling it off of the trunk slowly. Don't attempt to remove the ivy higher up in the tree; as it dries out over the course of a few months it will lose its leaves, shrivel and fall out of the tree on its own.
Pull up the ivy on the ground surrounding the tree, cutting it as needed for easier removal. Make a ring approximately 3 to 5 feet around the tree's roots to prevent ivy from starting to grow up the tree again. Pull the ivy horizontally across the ground instead of pulling straight up to prevent some of the damage to the soil caused by the ivy's uprooting.
Check the tree in six to 12 months, removing any new ivy growth that is attempting to reclaim the tree. Ivy will generally need to be removed at least once per year unless all of the ivy on the ground is removed as well.