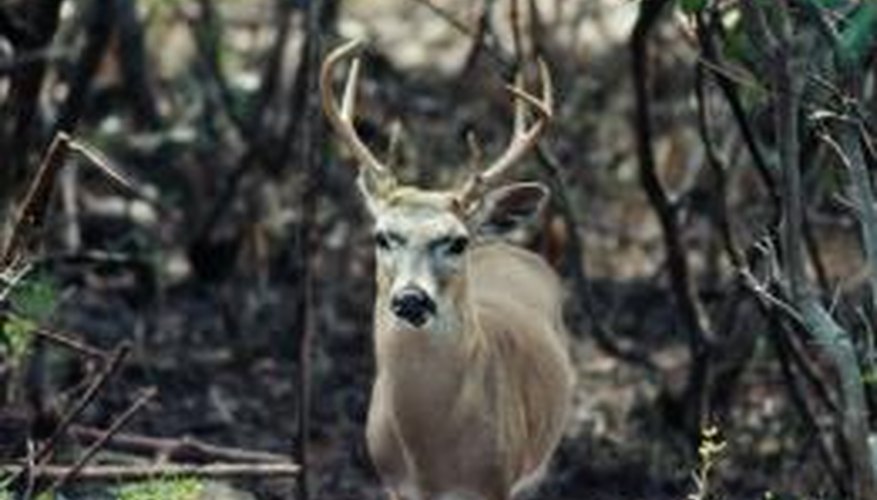 Gardens in both rural and urban landscapes are susceptible to deer. Deer, generally drawn to gardens for food supply and mating purposes, primarily feed on flowers, such as garden lilies and hydrangea, apples and many types of trees. Hungry deer will trample through gardens to access their preferred plants. Bucks enjoy scraping their antlers against trees and pawing the soil to portray dominance during mating season. Deer repellants are essential to protect a garden's food source and prevent further destruction.
Step 1
Hang bars of soap by wires from tree branches, posts or other sturdy objects in the garden. Let the soap dangle 1 1/2 feet above the ground. The scent of soap repels deer.
Step 2
Monitor the deer's activity for a few days to determine whether the soap bars are effective. If deer still consistently enter the garden, mix a raw egg with 1 qt. of water in a bowl.
Step 3
Fill a spray bottle with the egg solution. Spray the egg solution onto the plants and trees susceptible to deer. Eggs are repulsive to deer.
Step 4
Keep a watchful eye on your plants and trees for a week to determine if deer are still eating and damaging them. Reapply fresh egg solution every three days.
Step 5
Apply a commercial deer repellent to the susceptible areas of the garden if you continue to notice trampled plants, shredded tree bark and broken branches. Follow the deer repellent manufacturer's directions exactly.
Step 6
Install an 8-foot-high wire fence around perimeter of the garden as a last resort of controlling deer. Homemade and commercial repellent methods can become ineffective over time and deer will overcome their fears.