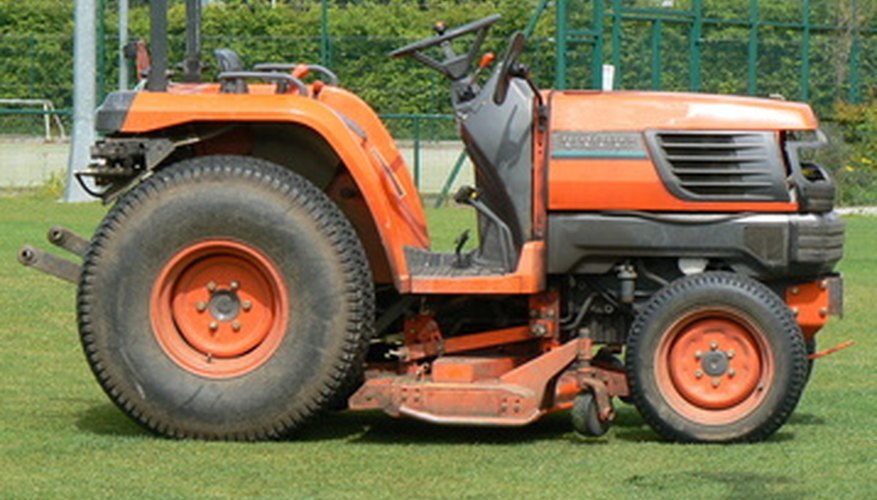 The MTD riding lawn mower helps people cut grass without having to push the mower. One of the signs of a mower needing adjusting is when the lines of freshly cut grass are lopsided or crooked. Repairs can be accomplished with little hassle with just a few tools found around the home.
Adjusting The Mower Deck
Park the MTD mower on a flat surface or in a garage. Go to the mower deck height lever and push it up to raise the deck to the highest point.
Use fingers to unscrew the hex cap on the left of the deck in front of the tire.
Use a 3/8-inch wrench to adjust the gear located behind the hex cap screw. Turn the hex cap screw until the mower deck looks even.
Screw the hex cap back onto the mower deck and lower the mower deck.
Repairing The Mower
Set the parking brake to the "on" position. Set the gearshift to the neutral position. These adjustments are required in order for the mower to start.
Raise the mower's seat to gain access to the kill switch. This is a small button under the mower's seat. When an individual sits down on the seat, the kill switch is pressed down. When the kill switch is raised, the mower will not start. Make sure that the kill switch is operable.
Use fingers or a pair of pliers to push and pull the kill switch if it's stuck. Have a certified technician service the kill switch if it's not functioning properly.
Go to the gas tank on the side of the mower and make sure there is enough gas for the unit to run.
Open the hook to the mower and make sure that the battery is connected properly. The red cable from the mower should connect to the "+" terminal. The black cable should connect to the "-" terminal.