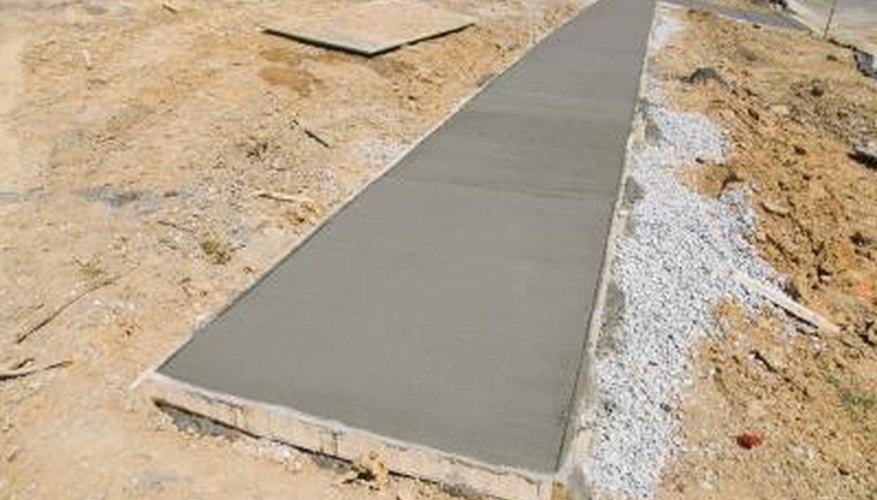 Building a stamped concrete patio increases the value of your home and provides a stylish outdoor living space. Stamped concrete is a low-maintenance material that takes on the look of a brick surface. Creating a stamped concrete patio is a do-it-yourself project that homeowners with little to no experience can successfully complete over a few short days.
Step 1
Prepare the base for pouring a concrete patio by excavating by at least 8 inches. Pour 4 inches of crushed rock over the excavated site and compact it with a plate compactor machine. Add another 4 inches of gravel and compact the site again until it is completely hard and doesn't shift. Set wire mesh over the base for the patio.
Step 2
Mix concrete in a wheelbarrow with 1 part cement mix, 1 part sand and enough water to make a brownie-like texture. Use a trowel to spread the concrete over the wire mesh and smooth it with the trowel or a floater. Wait 15 minutes to an hour for the surface moisture to dry.
Step 3
Set the concrete stamp over the concrete and press it into the wet concrete 3/4-inch to 1 inch deep.
Step 4
Lift the stamp by the handles and press it into a new section of concrete, aligning the stamp to continue the stamped line patterns.
Step 5
Place sheets of plastic over the stamped concrete to protect it from debris as it dries.