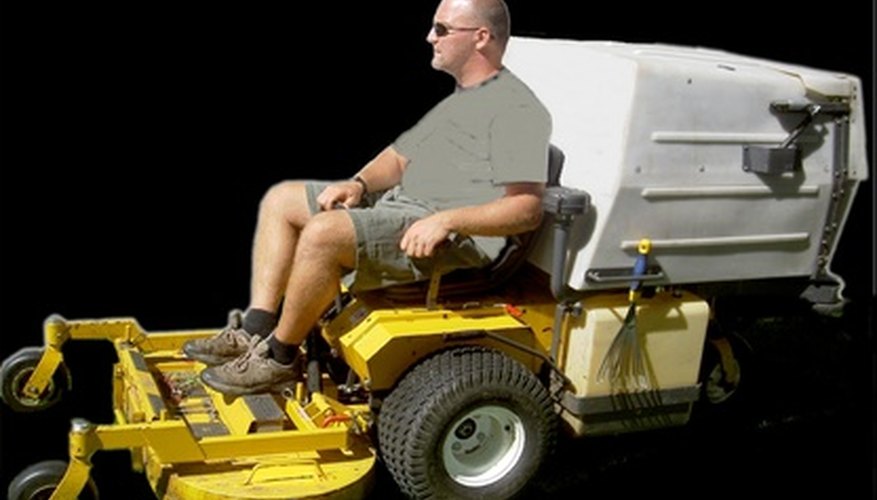 Zero-turn lawn mowers are riding mowers designed to turn in a complete 360-degree radius without any forward or reverse motion, allowing the operator to turn the machine around in a very limited space. As with any other type of riding lawn mower tractor, zero-turn mowers come in a variety of sizes with various numbers of blades and blade sizes and varying horsepower (HP) in the engine. If a zero-turn mower also comes with a grass bagging attachment, the capacity may also differ when compared to other models at a given price range.
Evaluate the premises on which the zero-turn mower will be used. Make note of grass thickness and if the mower will be required to climb hills. If the grass is fairly thick and the property or properties on which the mower will be used contain many hills, a zero-turn mower with higher horsepower in the engine will be desired -- generally 18 horsepower or higher.
Compare zero-turn mower models with engines containing the horsepower desired to get the job done with a minimum amount of difficulty. If there are two mowers of interest with the same horsepower but with different-sized blades, choose the one with the longest blades under the deck so more work can be done in a shorter period of time while making full use of the horsepower being paid for.
Select a zero-turn mower with hydraulic-powered steering and propulsion for fewer mechanical repairs. Hydraulic-powered zero-turn mowers use pressurized hydraulic fluid to steer and to propel the mower with a minimum of moving parts to wear out. Though these kind of zero-turn mowers can be slightly more expensive, the price is made up for with less downtime and fewer repairs compared to gear- or belt-driven zero-turn mowers.
The zero-turn mower you end up with should have bagging capabilities, and the largest deck size and blade size and the highest horsepower compared to other models in the same price bracket. With such careful comparison, it is possible to get the most mower for the least expense possible in the short term and the long term.