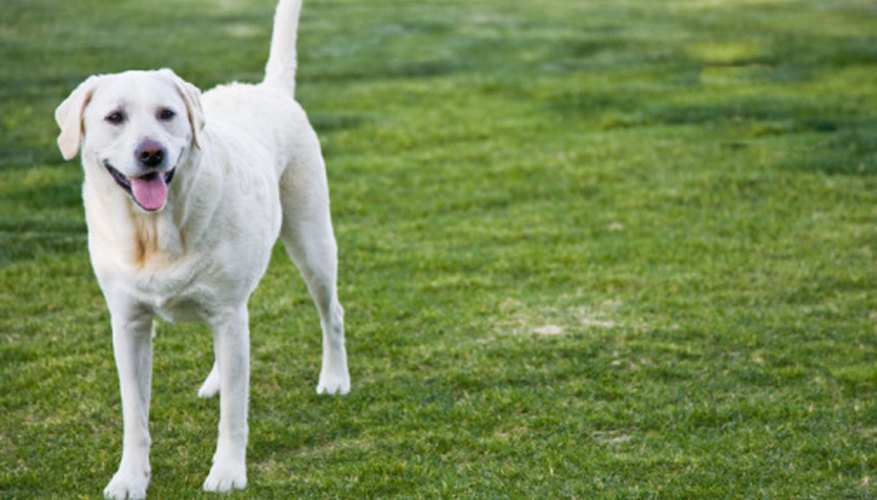 While small amounts of dog urine and feces can serve as fertilizer, large amounts can cause dead patches and burn spots in your yard. Urine generally causes more damage because it releases nitrogen all at once as a liquid, while feces release nitrogen more slowly. Urine damage often appears as circular brown patches in the lawn with green rings around the outside. The center turns brown because of the nitrogen overload, while the peripheral areas obtain diluted nitrogen and become healthier. Therefore, the management of dog waste problems in the soil should focus on minimizing nitrogen concentration.
Use a leash when taking your dog to the yard. When it starts to eliminate in an inappropriate location, pull the leash to disrupt it. This minimizes the amount of canine waste in the yard and allows you monitor the dog. Remove the stool immediately. Take note of the location where the dog urinates and how much urine it produces.
Water the spot where your dog urinates. Add about three times the volume of the urine to sufficiently dilute the nitrogen that gets into the soil. Do this within eight hours of urination before the soil absorbs too much nitrogen.
Sod damaged patches to quickly repair them. Otherwise, weeds might grow there before the original ground-cover plants recover. Moisten the area to help the sod piece adhere and lay the sod on it. Fill a lawn roller about 1/3 full with water and run it over the area to ensure contact between the soil and the roots of the sod.