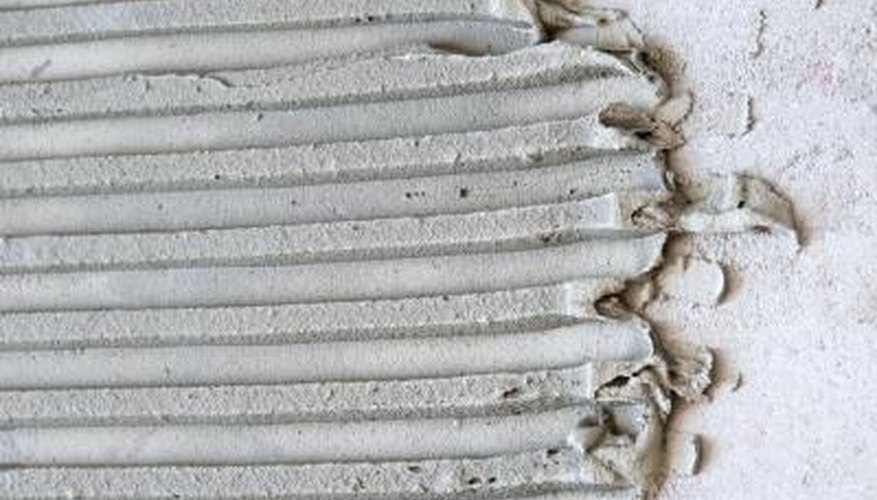 Jupiterimages/Photos.com/Getty Images
Applying tile to a concrete surface often means getting a bit of concrete grout where you don't want it, such as on the surface of your new tile or on the portion of concrete slab where you're not placing tiles. When wet, concrete grout is easy to remove, requiring nothing more than a damp sponge. Since grout is essentially concrete without the aggregate, once it's dried it acts as a thin concrete on your slab. The most effective method of removal, then, is to use a concrete grinder. The grinder applied to the layer of grout chips quickly through the substance, breaking it down into dust that you can then sweep from the slab.
Sweep the floor with a push broom to remove any dirt or debris that may interfere with the concrete grinder.
Protect the rest of the structure from dust particles. Cover all door openings and air ducts with plastic sheeting. Secure the sheeting in place with masking tape. Open a window, if available, and place an exhaust fan in the opening. Pull the windowsill down onto the top of the fan to prop it into place. Turn on the fan to remove any dust from the room.
Attach the grinding pad to the bottom of a concrete floor grinder. You can rent grinders from a home improvement store or an equipment rental shop. Follow the grinder manufacturer's instructions for proper attachment of the pad.
Plug in the grinder and roll it to the area of the slab covered in the concrete grout. Turn the grinder power on and push it over the grouted area with the grinding surface barely touching the surface of the floor. Run the grinder over the surface using very light pressure to break up the grout.
Move the grinder over the grout a second time, lowering the grinder pad slightly with a bit more force to grind deeply into the grout. Go through the grout with the second pass until you can see the slab beneath. Turn off the grinder, then sweep away the grout debris that has been ground from the surface. Search for any remaining grout and use a third pass of the grinder if you find any. Remove the debris.
Wash the surface of the slab with warm water and a pH-neutral cleanser to remove grout residue. Rinse with clean water, then allow the concrete to dry.
Things You Will Need
Broom

Plastic sheeting

Masking tape

Exhaust fan

Dust mask

Safety goggles

Floor grinder
Warning
Wear a dust mask and safety goggles to protect yourself from the particles created when grinding the grout.