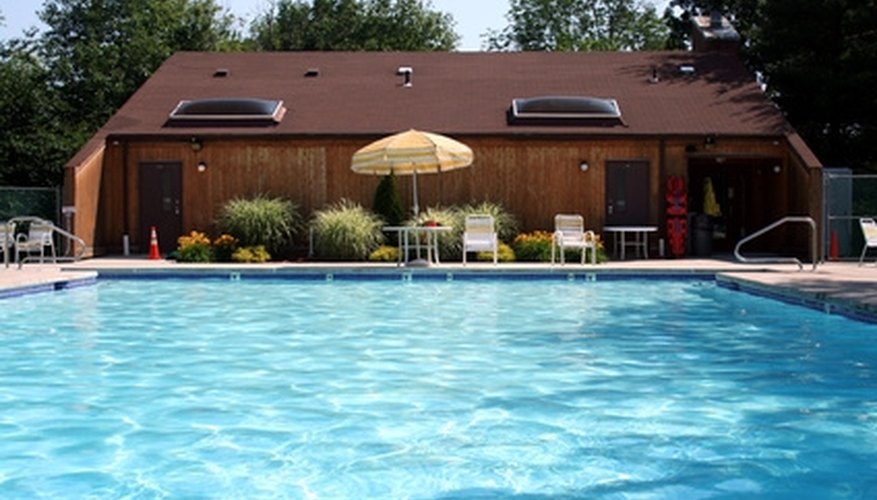 Seasonal temperature swings can severely limit the value you get from your pool. For this reason, pool owners use a number of techniques to keep pool water warm and to extend the usable season of the pool both in early spring and late fall. These techniques fall into two major categories: direct heating, which pumps additional heat into the pool; and heat-loss prevention, which curbs the amount of heat lost to the pool's surroundings.
Cultivate large, bushy shrubs around the perimeter of the pool to block wind gusts that evaporate away the warmest water molecules from the pool's surface. Dense fencing works well for this purpose, too.
Clear trees that block direct sunlight from striking the pool. The sun remains perhaps the best pool heater, and a full day's worth of sunlight will go a long way toward keeping your water warm. Remember when you're clearing trees, though, that the sun will be taking a lower path across the sky in the spring and autumn, when you need the sun the most, than it does during the summer months. As a result, you may need to clear some additional foliage that, at first glance, seems too low to block sunlight.
Add an evaporation-inhibiting chemical to the pool water. These chemicals are nontoxic and keep the pool warmer by slowing the rate at which heat is lost through evaporation.
Cover your swimming pool with a swimming pool blanket when not in use. These specialized, floating blankets further slow heat loss through evaporation while simultaneously soaking up heat from the sun's rays and transferring it to the water below.
Install a designated pool heater if your pool is still too cool for comfort. Gas and electric heaters are reliable but can be expensive, both in upfront installation costs and power consumption. Solar-powered heaters are another option. They may be pricier than traditional heaters upfront, but they can prove substantially more cost-efficient over time, considering the reduced power consumption.