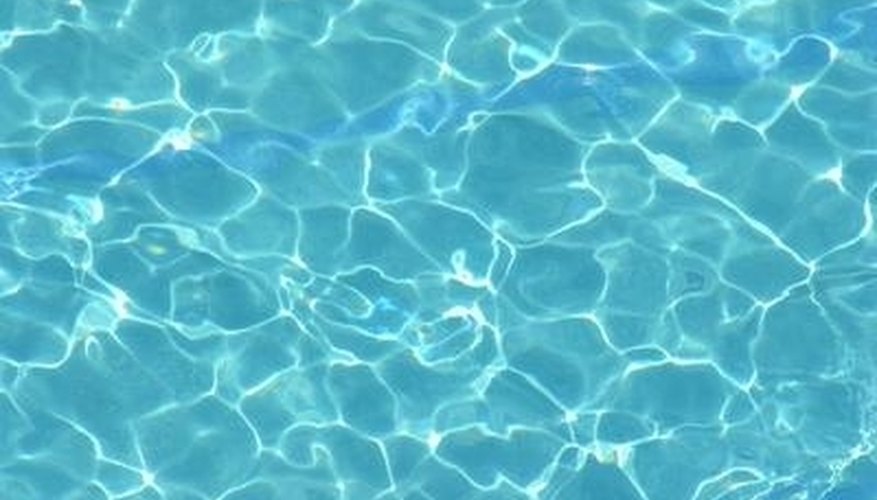 Balancing water in above-ground pools is an on going battle for most pool owners. There seems to be a fine line between properly balanced, clean, clear water and unbalanced water which shows signs of algae growth. Unbalanced water not only encourages bacteria and algae growth, but is also uncomfortable for those swimming in the pool. With proper testing and chemicals, you can achieve and enjoy balanced pool water in your above-ground pool.
Start with the pH levels. The pH is extremely important when maintaining a sanitized pool because it affects how chlorine works. A high pH inhibits chlorine's ability to clean, while a low pH level causes the chlorine to dissipate quickly. Therefore, before you add chlorine, check your pH levels. Aim for a pH level between 7.2 and 7.8. A pH that is too high or too low can be irritating to swimmers' eyes.
Review the chlorine levels. Once your pH is under control, add chlorine. Your goal is to achieve the optimal 1.5 to 3.0 ppm level of chlorine in your pool. Too little chlorine is dangerous, in that it allows bacteria and algae to grow. Too much chlorine is toxic and is uncomfortable for swimmers. Because conditions such as sun, heat and rain affect chlorine levels, be sure to test it at least once a day, preferably more.
Measure your cyanuric acid levels. Cyanuric acid is important in chlorinated pools because it helps to keep the chlorine from dissipating too quickly. It helps buffer the destructive effects of sun and heat on chlorine. The optimal cyanuric acid level, also known as CYA, is between 30 and 50 ppm.
Check the total alkalinity. Alkalinity is a tricky element in the balance of pool water. Alkalinity goes hand in hand with pH. A proper total alkalinity level helps to stabilize the water's pH. While a high alkalinity level is not by itself damaging to the pool and does not make the water uncomfortable, it can make it difficult to maintain the proper pH level. Getting your pool's alkalinity in check will help to keep your pH stable. A good total alkalinity range is between 80 and 150.