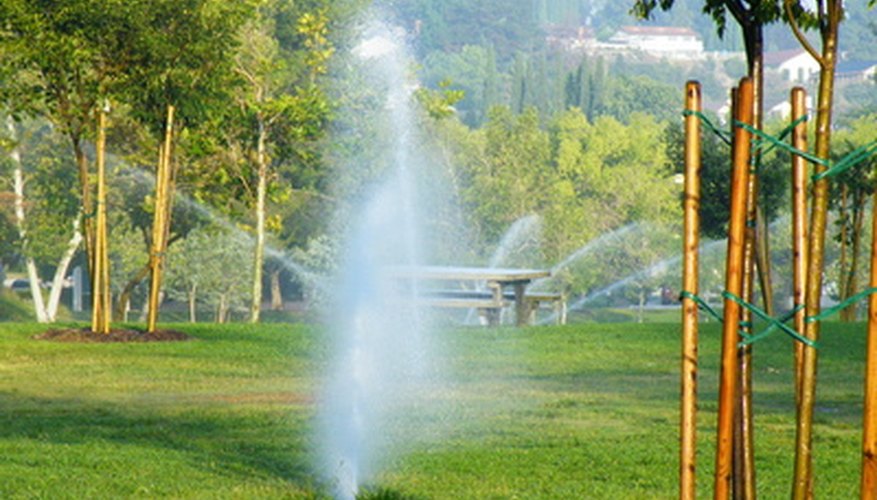 Sprinklers are a time saving element in the green lawn. They provide grass with regular watering that can be timed and programmed to provide water at the correct depth. Sprinkler heads are often susceptible to damage however, and require protection. Mowers and other yard equipment will easily break plastic heads or bend metal ones. Cold weather and fluctuating temperatures will also damage a sprinkler head if it is not fully winterized. Proper preventative maintenance will save your sprinkler heads from damage.
Design your irrigation system properly using swing joint sprinkler heads to prevent damage. Swing joint sprinkler heads allow the sprinkler head to move in several directions, allowing you to move it to prevent mower damage.
Place sprinkler heads at least 2 inches away from any curbs or sidewalks that may require edging with a yard edger or string trimmer.
Install sprinkler heads at the same level as the ground, not the level of the turf. This prevents mower blade and sprinkler head damage. Adjust sprinkler head height every year to keep it at ground level.
Drain the irrigation system before winter approaches to prevent water from freezing and bursting sprinkler heads and pipes. If sprinkler heads are removable, take them out and place them in a warm place. Disconnect the water pump from the system to prevent the irrigation system from turning on during the winter due to power surges. Follow manufacturing instructions when winterizing.
Install sprinkler donuts around the sprinkler heads to protect them. These are available through most gardening centers and hardware stores.