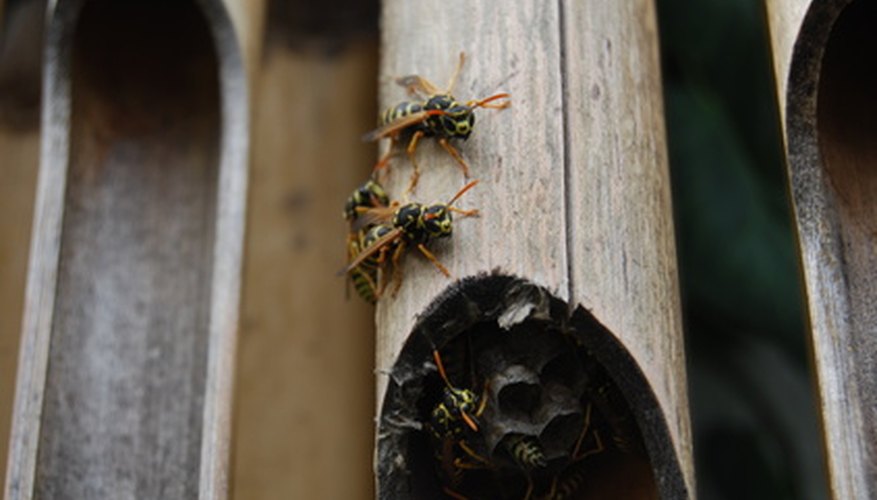 Paper wasps are actually good for your yard because they prey on other annoying pests, but these insects can quickly become pests themselves if they build a nest right over your back door or next to your patio. If you simply can't avoid the wasps, taking down the nest and killing its inhabitants is a solution. According to an article on wasps from Washington State University, paper wasps are among the most docile members of the wasp family, but you still need to approach the nest carefully and take precautions to protect yourself.
Observe the nest, taking into account its size and the level of wasp activity. Early in the season, paper wasp nests are small (about the size of a golf ball, or slightly larger) and they aren't yet inhabited. A single "queen" female works on increasing the size of the nest before laying her eggs. If the nest is small and you don't notice any activity, you can simply knock it down with a broom. The female will start her nest again elsewhere, or join another colony, according to Pest Control Canada.
Wait until nightfall to deal with the wasp nest if you notice any wasps flying in and out during the day. Most wasps have returned to their nests by sundown, and your efforts to kill the colony will be most productive with all of the wasps at home. Wasps are also inactive at night, minimizing the chance of stings. Spray the nest with a continuous stream of insecticide for about thirty seconds.
Observe the nest for activity the following day. If you don't see any wasps, wait until the evening and knock the nest down with a broom or long stick. If you still notice wasp activity, move on to the next step.
Treat the nest again with insecticide after nightfall, remembering to wear your protective gear when you spray. Watch the nest again the following day for signs of activity, and only knock it down when you no longer notice wasps flying in and out. Repeat the insecticide spray treatment each evening until you're sure that the nest is empty.