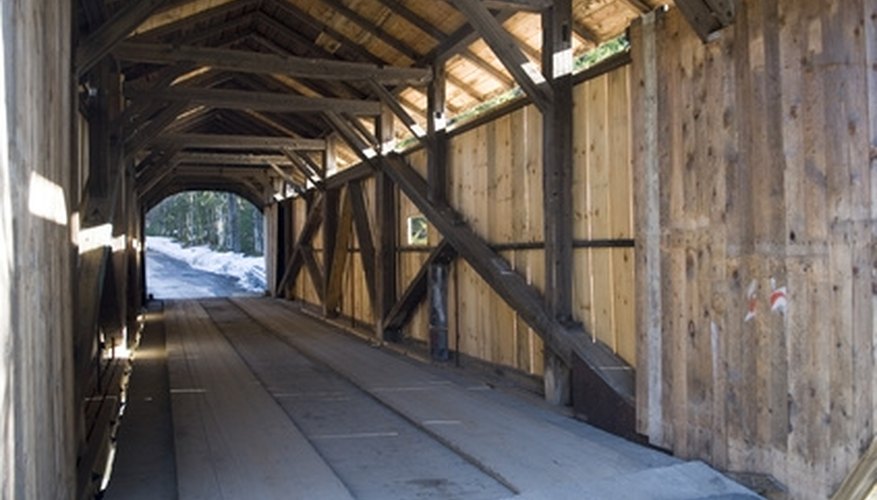 A homemade bridge can be a small, decorative accent to stretch over a pond in your garden, or if you have a larger property, you can build a bridge strong enough to allow a car to cross a creek or a gully. Whatever the size of the bridge you choose to build, it is useful to understand the basic premises of physics and force that apply to bridge building. Bridges can be straight spans from side to side that rely solely on the strength of their beams, or they can be supported by center columns from below, supported from above by arches or suspension cables, or held up by an arch.
Build a Simple Bridge
Build the simplest type of bridge if you are trying to span a small gap. How much weight you need the bridge to hold will affect how strong you need to make its foundations. A simple footbridge can rest on stones or concrete blocks, while a bridge that could hold a car or truck would need poured concrete footings that can withstand several tons of pressure.
To construct a footbridge, first find where the footings should go. Run a string with a line level across the span where the bridge will go to determine the ideal locations for the footings. Each footing should be level with its mate across the span. Lay flat stones or concrete blocks in these locations, two on each side about three feet apart. Partially bury them to make sure they hold firmly.
Lay two strong beams across the span, fastening the ends to the stones or blocks.
Lay down 1 inch-thick planks perpendicular to the beams and spike them into the beams using spiral nails that are 3 inches long. Do this all the way across the span.
Build a Stone Bridge
Build a stone bridge if you have ample stone in the area and a lot of time and energy. Due to its weight, a stone bridge must have a massive foundation.
If you are building over a stream, you will need to move the water away from where you are building the foundation. You can do this by digging into the stream bed to deepen the channel in the middle. This will be easier if you build at the driest time of the year, probably late summer.
Build a heavy-duty wooden arch as a form on which to build your stone arch. Leave a hole in your wooden arch support for the water to pass through so it doesn't back up around your foundations.
Build the stone arch on top of the wooden arch support, mortaring the stones together. When the arch is finished, fill in with stone until you have a flat passage from bank to bank on top of the bridge.
Remove the wooden support. The mortar and the shape of the arch will contribute to the strength of the bridge.