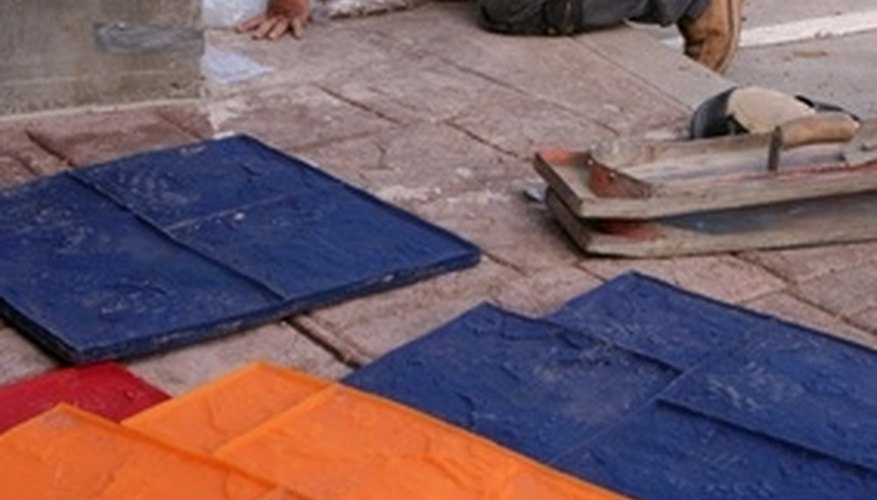 Stamping concrete can be done on vertical as well as horizontal surfaces. The process is similar, and the results are a dramatic way to improve the look of a plain concrete or concrete block wall. The process can be used for interior or exterior walls to provide a stone or brick look without the expense of veneer or actual stone.
Clean the concrete surface completely with a brush and water. Remove broken or chipped mortar. Allow to dry thoroughly.
Apply the bonding agent primer. If using a bulk powdered primer, mix according to package directions. Paint the edges with a paintbrush and the center using a roller with a thick-napped roller cover.
Mix mortar according to manufacturer's directions on the mortar package. Apply a scratch coat of mortar mix to the entire surface with a mason's trowel 1/8-inch thick on the entire surface. Use a mason's rake to scratch the surface of the mortar.
Mix the vertical stamp substrate according to manufacturer's directions. Work in 4- to 6-foot sections to apply a 1- to 3-inch coat of vertical stamp mix to the surface with a mason's trowel. Apply one section ahead, and stamp the previous section.
Work the vertical stamp substrate according to the type of impression desired. Create individual stones by sculpting out grout lines and pressing the texture stamp firmly against the vertical surface.
Apply concrete colorant by hand on the individual stones, or spray with colorant in a pressure canister sprayer to color the entire wall. Colorant does not need to be used, but will add a more realistic impression to the stamped vertical surface.
Seal with a high-quality sealant after the wall has dried for at least a week. Apply with a brush or pressure canister sprayer.
Things You Will Need
Scrub brush

Bonding agent primer

Paintbrush

Paint roller

Thick-napped roller cover

Paint roller tray

Mortar mix

Mason's trowel

Mason's rake

Vertical stamp substrate mix

Concrete colorant (stain or dye)

Concrete sealant

Pressure sprayer
Tip
Apply painter's tape to grout lines before coloring to add the impression of grout lines without having to paint them on the finished vertical surface after coloring.
Warning
Work in a well-ventilated area. Follow all manufacturer's recommendations for storage, use and disposal for all products used in the project.