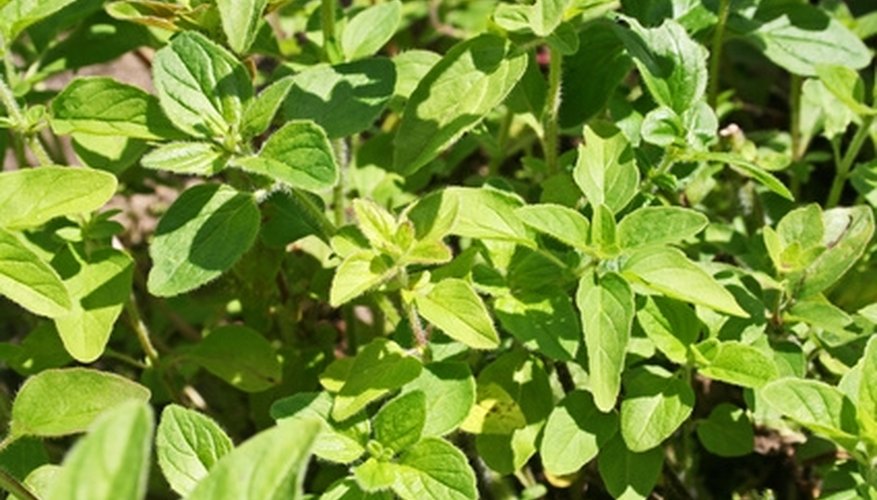 Herbs are among the hardiest of all garden plants, and tend to be resistant to insect pests. In fact, many herbs have insect-repelling properties. But resistant does not mean immune--your herb garden could still come under attack from a variety of bugs. Since many herbs are intended for culinary use, it's best to use natural or organic products to control insects, and to target only the destructive insects, leaving the beneficial bugs unharmed. By using some simple techniques for pest control in your herb garden, you can increase the odds that your oregano, sage and other herbs will be healthy, fragrant, and bug-free.
Kill spider mites and aphids by spraying with a solution of insecticidal soap made by mixing one tablespoon of canola oil and a few drops of liquid dish detergent with a quart of water. Spider mites are evidenced by their gray, wispy webs on the undersides of leaves, and aphids are tiny, teardrop-shaped bugs that leave behind a sticky substance on your herbs. Make sure you spray the entire plant, including the undersides of the leaves. Your oregano, marjoram and mint can be susceptible to mites and aphids.
Make a "collar" out of waxed cardboard to foil cabbage moths, which kill young sprouts of broccoli, kale, and brussels sprouts. Cut an X in the middle of a 2-inch square of cardboard and slide it over the plant and down to the ground to prevent moths from laying eggs at the base of the plant. If you have seen moths fluttering around your garden in past years, do this as soon as sprouts emerge.
Spread millky spore granules on the soil around the base of plants in your herb garden to kill the grubs that will turn into Japanese beetles. According to the Wilson Brothers Nursery website, this natural treatment sits dormant in the soil for years, waiting for grubs to infect. A one-time treatment should be sufficient, and will leave beneficial insects unharmed.
For hornworm--to which dill is sometimes susceptible--use Bacillus thuringiensis, a natural bacterial insecticide.
Set up yellow sticky cards around your herb garden to trap aphids and whiteflies, which are indicated by white clouds of bugs taking wing when the herbs are disturbed.
Use a small, hand-held vacuum cleaner to trap and kill whiteflies. After vacuuming the whiteflies in the early morning, place the vacuum bag in the freezer for 24 hours to kill the pests. According to the University of Missouri Cooperative Extension website, this technique is most effective when an infestation is just starting, before adults have laid many eggs.
Sprinkle diatomaceous earth over your herbs and around the edges of the garden if you are plagued by slugs or snails wanting to munch on your plants, particularly sage. The particles of the diatoms are miniscule but sharp, and will puncture the exoskeletons of slugs and snails without posing a threat to beneficial insects, humans and pets.
Repel ants and mole crickets in your herb garden by using a garlic spray made by mixing 1/4 pound of garlic with a quart of water and one tablespoon of liquid dishwashing detergent. Let sit for 10 minutes, then strain through cheesecloth. Mix one part garlic solution to 10 parts additional water, and spray.