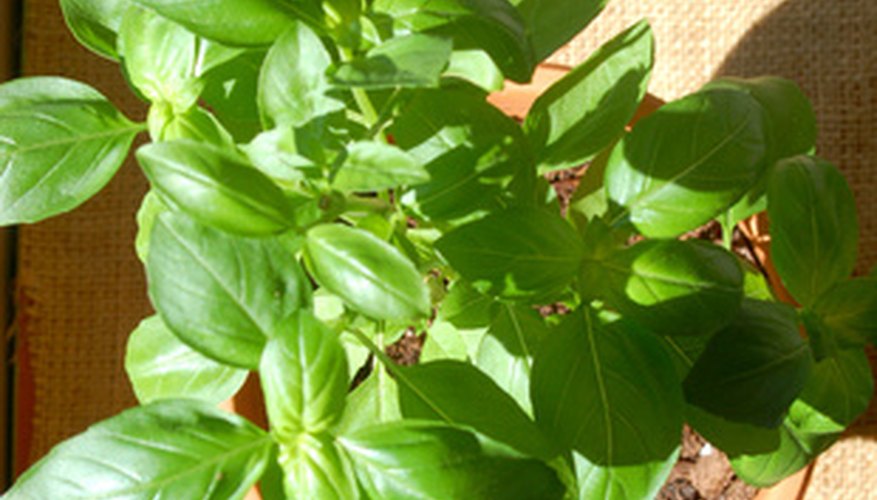 The herb referred to as "holy basil" in the U.S., and as "tulsi" in India, flourishes when temperatures are above 60 degrees Fahrenheit. Holy basil provides an attractive garden appeal as well as a mild spicy flavor to cuisine. Once harvested, it does not keep more than a couple of days, so it must be used quickly, or dried and stored. Harvest the basil before flowers and seeds appear on the plant on an early morning before the heat of the day.
Encourage bushy growth about a month before harvesting by pinching off the flower heads. This also prevents the plant from producing seeds, so it will prolong the basil's life span.
Cut your holy basil with the knife or pruning scissors above the bottom two to three sets of leaves. Make sure to leave enough leaves on the plant so that it will keep growing, providing more harvests during the growing season.
Cut away any leaves that appear damaged by any insects, and remove bugs by hand if you see any.
Pinch off any holy basil leaves that are discolored or appear to be yellowing. Discard them. Wash the remaining harvested leaves that are healthy, laying them to dry on a clean paper towel. Use within a couple of days.
Dry out the holy basil by securing bunches together with twine around the sprigs. Hang the bunches upside down in a dim, cool area for two weeks.
Remove the basil leaves from the stems carefully and place them to store in the dark jar (this will help retain the color of the leaves). Secure the jar with the lid and discard the basil stems.
Things You Will Need
Sharp knife or pruning scissors

Twine

Dark glass container with airtight lid
Tip
Use your holy basil within one year when dried and stored; after that, it will lose its flavor, color and smell.
References