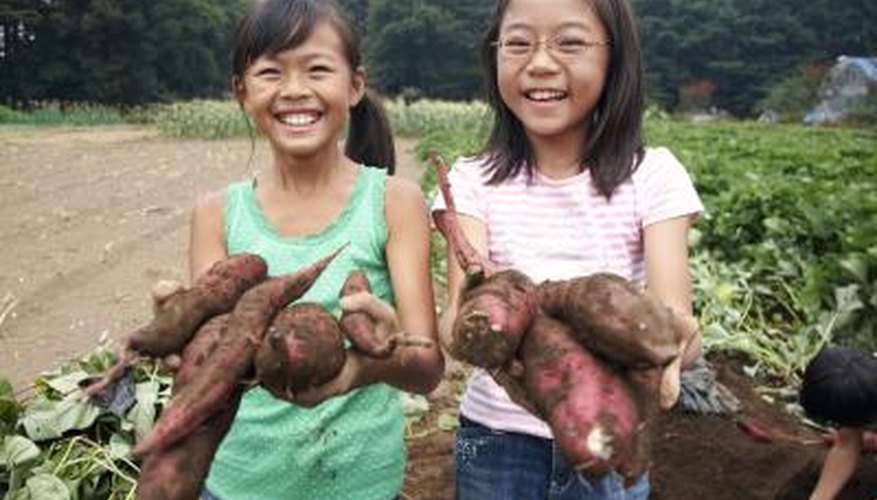 Yams grow best in subtropical regions such as the Caribbean and Asia. The yams are often confused with sweet potatoes, and the two vegetables have similar growing techniques. While the yams require higher temperatures to grow efficiently, they both grow underground and thrive off phosphorus-rich soil. The tubers require a well-drained soil and require a lot of ground space to spread their roots. Since the two have similar growing characteristics, you can follow the same techniques to grow either a yam or sweet potato, taking into account the higher temperature needs of the yam.
Step 1
Choose the location for the yams. Yams grow best in well-drained and fertilized soil. Inspect the area to ensure that it receives direct sunlight six to eight hours a day.
Step 2
Add nourishment such as fertilizer and organic matter to the soil. Mix a low-nitrogen fertilizer into the soil at least two weeks before planting the yams. Loosen the soil with a garden tiller to allow the roots to spread well.
Step 3
Plant the yam tubers 12 inches apart. Only begin planting the yams once the threat of frost passes. Plant the yams 2 inches deep and cover the top of the soil with mulch to hold in moisture and warmth.
Step 4
Add fertilizer to the soil every two to three weeks. Use a low-nitrogen and high-phosphorus fertilizer and mix it well into the soil. Continue to water the yams to keep the soil moist, but take care to not over water.
Step 5
Harvest the yams once the leaves begin changing colors. The leaves will begin to turn yellow and wither. Dig the yams up from the ground with a shovel 10 to 15 inches from the vine. Typically, the first harvest of yams begins 150 days after planting.