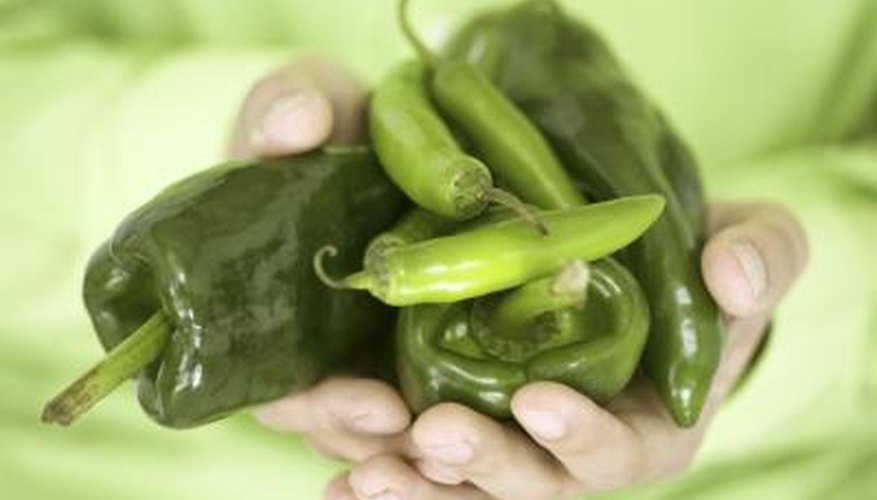 The keys to controlling most pepper-attacking pests are identification and timing. At least a half dozen species of insect feed off pepper plants and each is controlled with a different method, so it's necessary to know which pest has infested your peppers. Noting the timing in the infestation is a consideration, as well. Plants can generally be saved if treated before the pest lays eggs, depending on the insect. Often, little can be done to salvage the fruits after the insect lays its eggs.
Step 1
Identify the bug infesting your plant. Aphids are small insects with soft bodies that can be green, pink, black or yellow and may or may not have wings. Aphids cluster on the undersides of pepper plant leaves. Colorado potato beetles are yellow with black stripes, and the larvae are red with black heads. Cutworms can be brown, black or gray, and they are in the soil, most frequently around new transplants. They feed off the plant at ground level during the night. Flea beetles are tiny and black or brown and eat small holes through leaves. Pepper maggots come from eggs laid inside the pepper, so the fruit is essentially ruined by time the maggots are visible. The egg-laying culprit is a yellow fly with brown bands on its wings. Pepper weevils are small with black snouts and lay eggs in new pepper pods. The larvae then eat through the buds. Tomato fruitworms or corn earworms are yellow-green with long dark stripes, and feed off the fruits of pepper plants.
Step 2
Physically remove the insect if possible. Pull off Colorado potato beetles and their larvae and tomato fruitworms or corn earworms as you notice them before you apply a pesticide. Crush egg heaps under leaves if dealing with Colorado potato beetles.
Step 3
Spray the appropriate pesticide on the plants. Spray pyrethrum on plants infested with aphids, Colorado potato beetles, flea beetles and pepper weevils. Use a rotenone spray on pepper plants when yellow flies with brown bands are seen near peppers to avoid a pepper maggot infestation. Spray Sevin on plants in the early stages of fruitworm or earworm infestations.