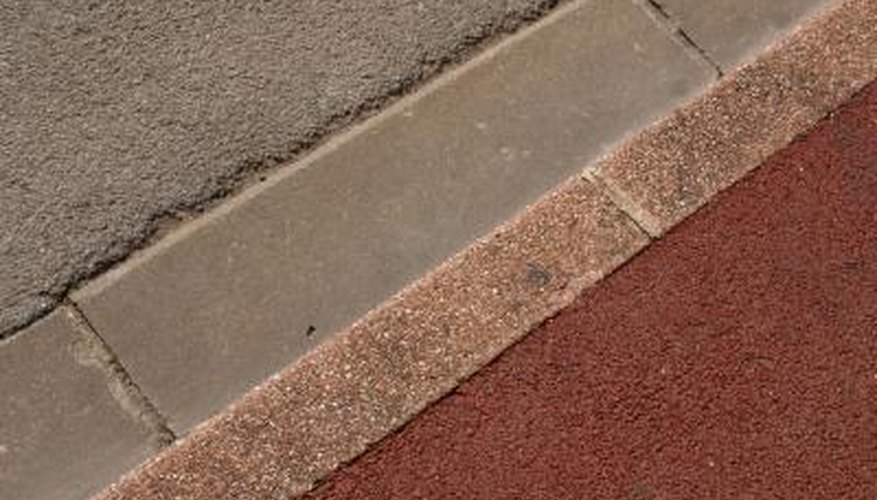 Concrete curbs make great borders for gardens and other planting areas in landscaping. Poured concrete is also commonly used to create a "mower strip," a continuous, flat curb bordering a lawn, often serving as a buffer between the grass and neighboring planting beds. The strip is low to the ground so you can ride a mower right up on the curb to cut the grass along the edge. The easiest way to build a concrete curb is to pour it in place using simple wood forms.
Step 1
Establish the path of the curb using a garden hose or rope. Plan to make the curb at least 5 inches wide. Dig a 4-inch-deep trench along the path, making it about 3 inches wider than the width of the finished curb. Tamp the soil in the trench with a hand tamp.
Step 2
Cut 8-foot-long strips of 1/4-inch tempered hardboard from a 4 x 8-foot sheet. The width of the strips will equal the total thickness of the curb and should be at least 4 inches wide. For a mower strip that extends 1 inch above the ground, cut the strips 5 inches wide.
Step 3
Drive a 1-inch-by-2-inch stake every 12 inches along one edge of the trench. The tops of the stakes should be slightly below the finished height of the curb. Install the hardboard strips on the inside faces of the stakes, using drywall screws driven through the hardboard and into the stakes. Face the tempered (smooth) side of the strips toward the inside of the trench. Install the remaining side of the form using the same techniques and measuring from the first side to maintain a consistent width.
Step 4
Coat the inside faces of the form with light cooking spray or a concrete release agent. Mix crack-resistant concrete according to the manufacturer's directions. Fill the form to the top, then strike off the concrete flush with top of the form, using a straight piece of scrap 2-by-4.
Step 5
Smooth the concrete surface with a concrete float, following the manufacturer's recommendations for proper finishing times. Cure the concrete as directed, then remove the forms and backfill along the curb with soil and plantings, as desired.
Things You Will Need
Garden hose or rope

Excavation tools

Hand tamp

1-inch-by-2-inch stakes

Maul

1/4-inch tempered hardboard

Circular saw

Drill

Drywall screws

Cooking spray or release agent

Piece of scrap 2-by-4

Crack-resistant concrete

Concrete mixing tools

Margin trowel

Concrete float