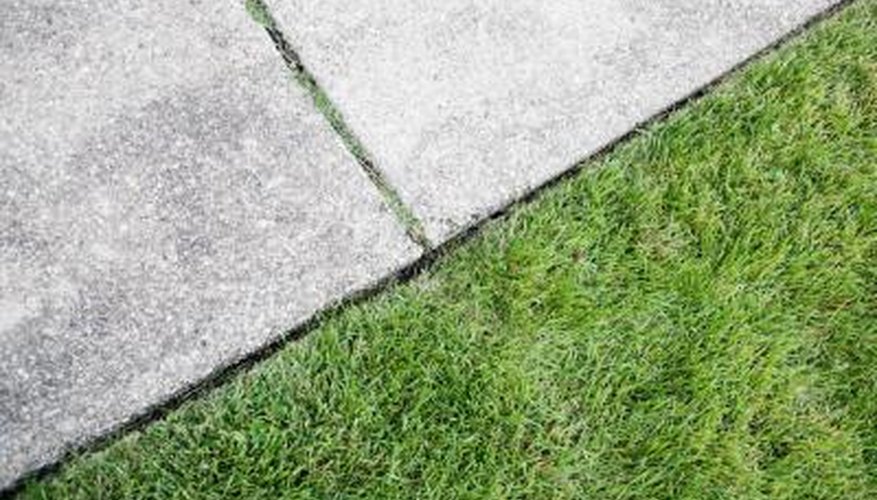 Acrylic concrete stains can be used to transform your plain, gray concrete into a thing of beauty. Concrete stains are versatile, and there are a variety of faux finishing techniques you can use to achieve different looks. By creating a stencil on your concrete, you can actually give it the appearance of an expensive, natural stone patio.
Creating your Stencil
Step 1
Prepare the concrete. Make sure it is clean, dry, and porous. If the concrete is too smooth and does not absorb water easily, it will need to be etched. Concrete to be stained should be rough; it should feel like a 120-grit piece of sandpaper.
Step 2
Etch smooth concrete. There are a few different concrete etching products on the market. Some use mild acids, and others organic salts, to remove a fine layer of limestone from the concrete. Apply the etching solution to the concrete and let it sit for 30 to 45 minutes, then wash the concrete down with a good all-purpose household cleaner or diluted non-sudsing ammonia. This will neutralize the concrete, and remove any concrete powder that was generated by the etching process. Rinse thoroughly and allow to dry for at least 24 hours before continuing.
Step 3
Layout your design. On dry concrete, use masking tape to create your stencil. Blue, painter's tape works well. You are using the tape to create the mortar joints between the concrete that will be stained to look like natural stone.
Take a look at some natural stone patios to get ideas for your own layout. You want your stenciled stone to look organic.
Step 4
Press down the edges of the masking tape with a spoon. You want to ensure that no stain seeps under the tape.
Step 5
Stain the concrete using your pump sprayer. Using multiple colors of stain will create accents, and give the finished product depth. Apply a base color, and then mist one or two accent colors over it.
Step 6
Use faux finishing techniques to give your concrete more variation. Over your base color, you can sponge an accent color on to give the appearance of porous travertine. By rag rolling an accent color over the base, you can give the concrete a leathery appearance.
Step 7
Remove the masking tape. The sooner you can take up the tape, the less likely the stain will dry to it and pull up off of the concrete.
Things You Will Need
Concrete cleaner

Concrete stain

Concrete etching solution (optional)

Masking tape or painter's tape

Spoon

Pump-up sprayer

Sponge or rag (optional)