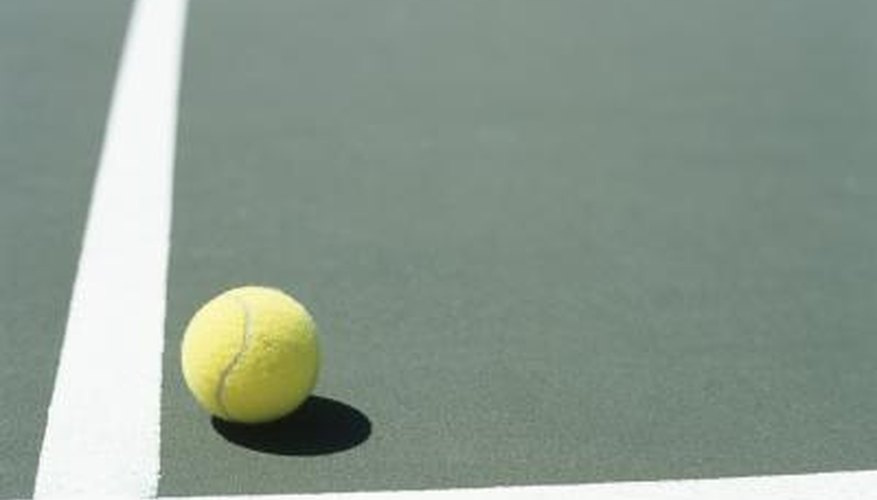 Having a tennis court in your backyard is the dream for any tennis enthusiast. If you have the space, creating your "home court" makes jumping out for an impromptu game or working on a ball machine convenient. Building a tennis court in your backyard involves determining the space you can devote to the court, the surface type and any color schemes you will be using. The most popular surface is a concrete surface because it is low maintenance and lasts for many years.
Step 1
Clear the area you need for the tennis court. It is important to remove any tree roots that may grow under the court causing it to crack and become hazardous. Tennis courts require a 78 feet-by-36 feet surface for a standard playing court with doubles alleys. You will need to add another 10 feet behind each baseline area and 5 feet on either side of the alleys to provide running space. The more space you add, the more you ensure a safer court.
Step 2
Level the area with the tractor. Use a professional grader if you are new to this. You cannot afford to have any slopes or dips in the court.
Step 3
Check the area with a level to make sure everything is evenly graded.
Step 4
Frame your court to pour the concrete. You may wish to make two frames if you will be pouring two different colors of concrete. For example, if your inner court will be blue and the outer court green, you will need to mix and pour these in two phases.
Step 5
Dig two holes for the net posts. The holes should be in the middle of your court length. For example, if you are making a court with 10 feet behind each baseline, the net posts should be 49 feet from the back of each court. The net will span 38 feet, being about 1 inch outside of the doubles alley.
Step 6
Place the posts in the holes and set them with concrete.
Step 7
Mix and pour the rest of the court as you have it framed out. Be sure to keep everything level and trowel the court twice to make sure you have a very smooth surface. Do not brush the court.
Step 8
Allow the concrete to set and dry. Do not seal the court because you want water to seep down instead of settling on the surface if there is a light shower.
Step 9
Measure and paint your lines. Lines should be at least 2 inches wide but no more than 4 inches. A wheeled line painter is a great way to keep the lines straight and even.
Step 10
Install the net on the posts.