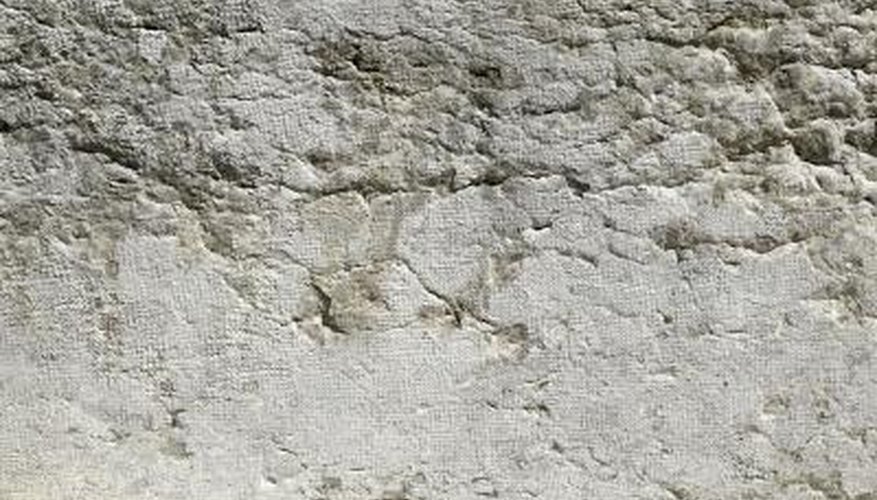 Spalling concrete is often due to the natural freeze and thaw cycles of colder climates and the subsequent use of deicers. Water fills the pores of a concrete surface, and, when it freeze, expands to overfill those same pores. This causes the smooth, attractive top layer of the concrete to "pop" off of the rough, unattractive interior layer. Remnants of deicers also build up in the pores of the concrete, causing the attractive top layer to fail.
Prevention Is Key
Step 01
Opt for air-entrained concrete if you are in the planning stages for your concrete project. The air bubbles created by air-entrainment act as internal pressure relief valves, giving water the opportunity to freeze and expand without putting undue pressure on the concrete.
Step 11
Apply an anti-spalling concrete sealer 28 days after the concrete has been poured. If the concrete is older than 28 days, but has not yet begun spalling, the sealer can still be applied. Brush the concrete sealer on the concrete with a good quality paint roller, covering the surface thoroughly without allowing the sealer to form puddles. Anti-spalling concrete sealers help reduce the incidence of spalling.
Step 21
Use sodium chloride or calcium chloride based deicers only when necessary, because these have the least reaction with concrete. Ammonium nitrate and ammonium sulfate deicers are chemically damaging to concrete surfaces, although they are considered safe for grass and shrubs. Always rinse deicer compounds from the concrete surface to avoid mineral deposits building up in the pores of the concrete.
Repair Spalling Concrete
Step 01
Repair the spalling section of the concrete if the damage has already been done. Begin by cleaning away all the debris by pressure washing the area thoroughly.
Step 11
Combine a small amount of concrete powder mix with water in a bucket to form a thin slurry mixture called a "tack coat." Brush this tack coat onto the damaged concrete with a paintbrush. The tack coat helps the new concrete bond to the old concrete.
Step 21
Add more concrete to the slurry mixture to make it thicker, until it is a relatively thick, workable consistency.
Step 31
Apply the thickened concrete mixture to the damaged area of the concrete with a steel trowel, pressing the concrete down as you work. Drag the trowel across the surface of the concrete to remove excess material.
Step 41
Blend the new concrete patch into the old concrete surface by brushing over it with a stiff paintbrush. Allow the concrete to dry for four to six hours before allowing foot traffic in the area and 24 hours before allowing vehicular traffic.