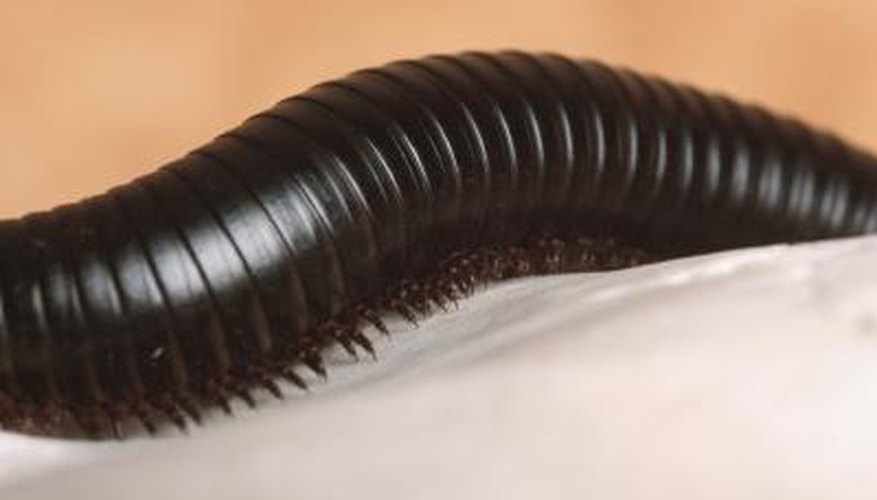 Millipedes have elongated segmented bodies, about 1 to 1 1/2 inches in length. They have one pair of legs attached at each segment. They are normally considered as pests. While millipedes do not bite, they exude a fluid that can result in skin irritation. If you notice these arthropods in your garden soil, you do not need to call a pest exterminator. You can get rid of them on your own using some simple methods.
Step 1
Use a lawn mower to mow the lawn short. This will allow the grass to get dry faster and prevent retention of moisture, making your lawn and soil less attractive to millipedes. Dethatch the lawn in early fall.
Step 2
Get rid of decaying leaves and wood, compost heaps and mulch from your garden which provide a food source as well as a place to hide. This is especially true for areas close to the foundation of the house, as millipedes can make their way indoors using small crevices. Stack firewood on an elevated platform, so that it does not come in contact with the soil. Millipedes can hide in the bark of the firewood.
Step 3
Use an insecticide spray directly on the millipede whenever you see one walking in your garden or backyard. Get an insecticide with pyrethrin as the active ingredient.
Step 4
Apply outdoor insecticide, especially formulated to exterminate millipedes, in your garden in spring and/or early fall. Insecticides, containing bifenthrin, cyfluthrin, deltamethrin and permathrin are best suited to get rid of millipedes outdoors. Use this insecticide for the soil around the house in a 1- to 2-foot wide band.
Step 5
Use pesticide baits in the form of pellets or flakes if millipedes are overrunning the soil in your vegetable patch. Ensure that the product label specifically states that the pesticide can be used close to vegetables and is specifically formulated to target millipedes.