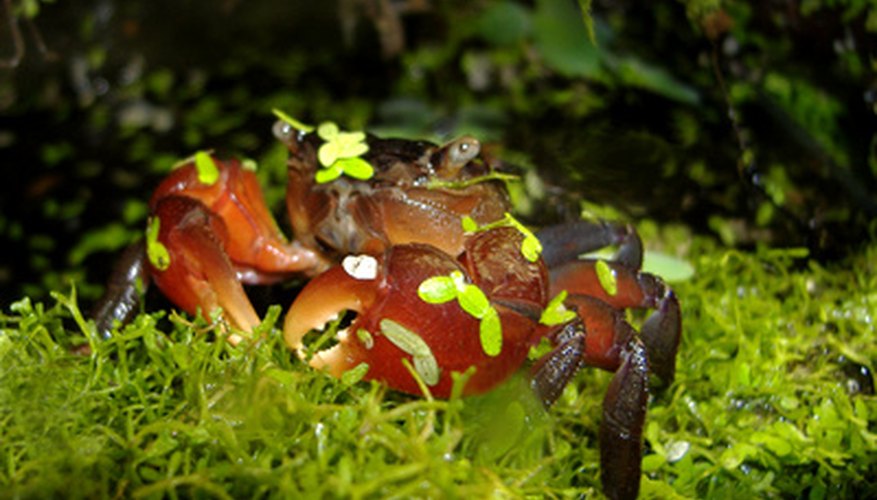 Types of Terrariums
A terrarium is an enclosed or partially enclosed structure made of glass or transparent plastic for growing plants and sometimes housing small animals. Often the plants and animals have specific needs that require carefully controlled conditions.
Closed Type
These are completely sealed off from the outside and ideally should not be opened at all. It is very difficult to perfectly balance the micro-system, but they require no care beyond that when done correctly.
Open Type
These terrariums are often not completely enclosed or have an easy-to-open door for access. They require regular care. Feeding of animals, trimming plants, and periodic watering and cleanup are needed.
Plants
Small ferns, mosses and bromeliads are good plants for a terrarium. They benefit from the high humidity and often do not require much soil.
Animals
Some small frogs, snakes and turtles require a natural feeling habitat of a planted terrarium, and benefit from the high humidity and controlled environment.
Lighting
With lower light-loving plants, a bright room might be sufficient. Higher light-loving plants might need a supplemental light. Avoid any direct sunlight as it builds up too much heat.
How to Create a Low Light Terrarium
Choose a container. Typically, clear glass is recommended to allow for more light. However, since that is not a problem, almost any glass container will work as long as it has an opening at least 6cm wide.
Clean the container thoroughly. Use a mild solution of bleach and rinse well to ensure that all microorganisms and bacteria are killed.
Place about 1 inch of gravel or small pebbles on the bottom of the terrariums to allow for drainage.
Add a 1/2-inch layer of activated charcoal on top of the gravel. This will absorb any odors.
Add a layer to separate the soil from the rock and charcoal. This layer can be nonmetallic screening, landscape fabric or sphagnum peat moss.
Add potting soil. You can purchase potting soil from your local landscape or garden center or make your own by combining three parts sterile potting soil, two parts perlite or sand and one part peat moss or vermiculite.
Add plants that enjoy low light such as selaginella, asparagus fern, Swedish ivy, bird nest sansevieria, maidenhead spleenwort, club moss, Chinese evergreen, parlor palm, philodendrons or artillery plant.
Add enough water to moisten the soil, but be careful not to over water. Do not fertilize.
Cover the terrarium with a lid. If you do not cover the terrarium, make sure that the humidity stays high enough.
Place the terrarium in a spot that receives low light, such as a north window.
How to Start a Terrarium
Add several inches of soil to the terrarium. Try to create hills and valleys of soil to give the planting depth. Rocks and small pieces of wood can be used to hold the soil in place. Dampen the soil with water using the spray bottle. Avoid making the soil soggy.
Arrange the plants according to their mature sizes. Taller plants should be placed toward the back while shorter and more spreading species can be used in the foreground and mid-ground areas. Use a spoon or other suitable object to tamp the soil around plant roots. Water the plants well.
Use a proper light meant for growing plants. The light should be left on for several hours a day to mimic the sun's natural rays. Mix a water-soluble fertilizer to feed the plants once a month.
Using sharp scissors, trim off dying and damaged limbs and blossoms as they appear. If plants begin to outgrow the terrarium, they can be trimmed back to a proper size. If too much condensation builds up on the glass, remove the lid and wipe it off with a clean cloth.
How to Grow Container Gardens in Terrariums
Put an inch of gravel at the bottom of your clean glass container.
Add a 1/2-inch layer of activated charcoal to help control odor.
Add dry potting soil, up to 3 inches deep. Create hills and angles by distributing the potting soil unevenly.
Use a long handled spoon to dig holes for the roots of your plants.
Plant your plants in the dirt, gently spreading out their roots, and replace the dirt over their roots.
Mist the inside walls of your terrarium with an ounce or two of distilled water. Do not water your terrarium again until it has begun to dry out.
Keep your terrarium in indirect sunlight.
How to Create a Tropical Rainforest Terrarium
Fill the bottom of the tropical rainforest terrarium with a thin layer of small pebbles. Pebbles or rocks are usually used in terrariums to improve drainage. They serve this purpose in a tropical terrarium, but they also help increase humidity, which is crucial to the tropical ecosystem.
Add some potting mix. The tropical terrarium's potting mix must be well balanced and contain at least some peat moss and perlite. Use sterile potting mix, which can be purchased at nurseries and many garden centers.
Plant tall, upright tropical plants in the back of the terrarium. Taller plants need to go in the back so they do not block the view of shorter, ground-dwelling plants. Tall tropical plants that thrive in terrariums include bromeliads, dieffenbachia, calathea, palms and croton.
Choose a few smaller tropical plants for the front of the terrarium. The best choices are pothos and phildendron because these plants will spread around the bottom of the terrarium and create a forest floor.
Put a tarantula in your tropical rainforest terrarium. Many animals eat plants, and some may simply add too much work to an otherwise low-maintenance terrarium. However, tarantulas make the perfect terrarium pet, because they only feed on decaying plant material and harmful insects. They also have a tropical look, adding to your motif.
Consider a few accents for the tropical terrarium. Add rocks, a small sandy beach or a battery-operated fountain.
Place the tropical terrarium in bright but filtered light. Direct sunlight makes temperatures inside the terrarium too hot, but most tropical plants thrive in bright conditions. If placing directly in front of a window, filter the light with a transparent curtain.