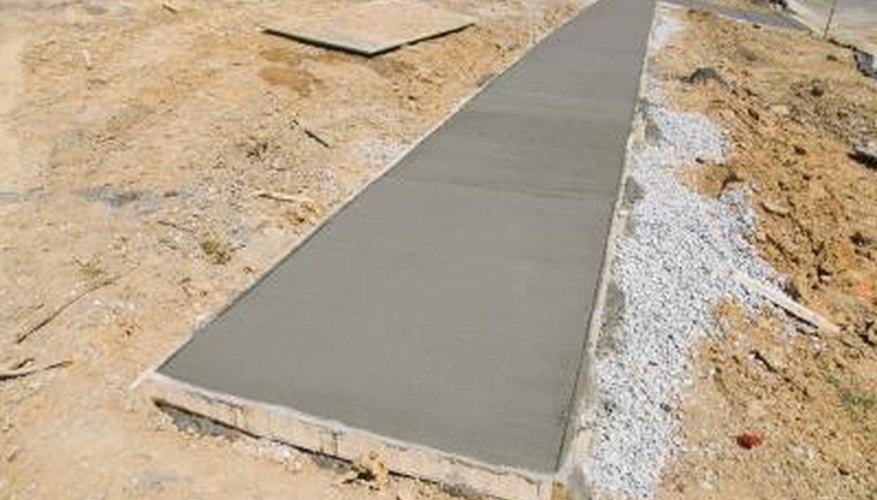 DIY Stamped Concrete Patio
Building a stamped concrete patio increases the value of your home and provides a stylish outdoor living space. Stamped concrete is a low-maintenance material that takes on the look of a brick surface. Creating a stamped concrete patio is a do-it-yourself project that homeowners with little to no experience can successfully complete over a few short days.
Step 1
Prepare the base for pouring a concrete patio by excavating by at least 8 inches. Pour 4 inches of crushed rock over the excavated site and compact it with a plate compactor machine. Add another 4 inches of gravel and compact the site again until it is completely hard and doesn't shift. Set wire mesh over the base for the patio.
Step 2
Mix concrete in a wheelbarrow with 1 part cement mix, 1 part sand and enough water to make a brownie-like texture. Use a trowel to spread the concrete over the wire mesh and smooth it with the trowel or a floater. Wait 15 minutes to an hour for the surface moisture to dry.
Step 3
Set the concrete stamp over the concrete and press it into the wet concrete 3/4-inch to 1 inch deep.
Step 4
Lift the stamp by the handles and press it into a new section of concrete, aligning the stamp to continue the stamped line patterns.
Step 5
Place sheets of plastic over the stamped concrete to protect it from debris as it dries.
How to Change the Color of Stamped Concrete
Instructions
Deep clean the concrete surface with a degreaser, and allow it to dry for approximately 24 hours. Touch the stamped concrete surface to ensure that it's completely dry, and begin working when the temperature is between 50 F and 90 F.
Tape off any areas that you do not want to color, such as the perimeter of the house.
Sweep the concrete surface with a broom immediately before applying the sealant to ensure that no particles have fallen on it.
Mix the sealer completely. Paint an inconspicuous sample area of the concrete first to ensure that you like the new color. Allow the color to dry.
Use a paintbrush to work the sealer into corners and edges. Spray the sealer in an even coat onto the concrete using the garden sprayer. If the sealer color bleeds, use xylene or paint thinner to correct the problem.
Allow the sealer to dry for 12 hours. In driveways or heavy traffic areas, allow the sealer to dry for 72 to 96 hours.
How to Make a Stamped Concrete Driveway Shine Again
Step 1
Blow dust and debris from the driveway with a leaf blower.
Step 2
Wash the surface with a soap and water solution and a push broom. Rinse the surface with the garden hose. A pressure washer can be used to clean heavily soiled surfaces.
Step 3
Allow the driveway to dry for 24 hours, as the sealer will not adhere to a damp surface.
Step 4
Pour sealer into a paint tray. Dip the roller into the sealer, coating all sides of the roller pad. Roll the pad across the top edge of the paint tray to remove excess sealer.
Step 5
Roll the sealer onto the driveway surface, working in 2-by-4-foot sections at a time. Overlap sections to get complete coverage.
Step 6
Apply a second coat when the first coat is no longer tacky to the touch.
Step 7
Wait a minimum of 24 hours before walking on the surface. Wait an additional day or two before driving a vehicle on it.
How to Maintain Stamped Concrete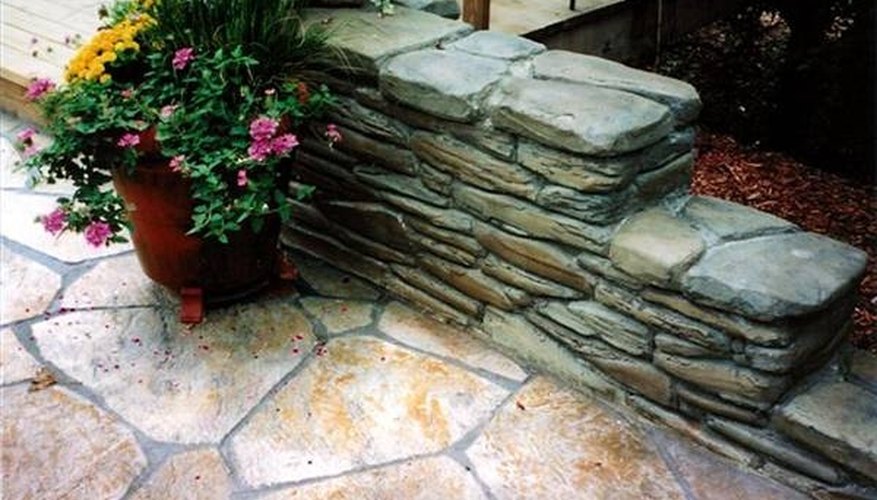 Apply sealer to the concrete annually after it has been pressure-washed and dried completely. For best results, do not apply sealer in cold weather (less than 50 degrees F) or hot weather (more than 90 degrees F).
Sweep the concrete periodically to avoid any buildup of dirt and debris.
Pressure-wash outdoor concrete as needed to remove any dirt and debris that may get stuck in cracks and crevices. For indoor stamped concrete, mopping with a wet mop and the occasional dust mop to remove loose dust and dirt is all that is needed.
Use a mild detergent in water with a medium-bristle brush to scrub away any stains instead of pressure washing.
Apply a coat of floor wax or polish to provide extra protection in areas that are heavily trafficked.
Stamped Concrete vs. Paver Driveways
Stamped Concrete
Stamped concrete is a way to dress up plain concrete slabs with patterns that resemble stone and brick. The design is stamped into the concrete after it has been poured but before it has begun to harden. Many times the concrete will also be tinted to mimic the color of brick or stone.
Pavers
Pavers are small, individual, brick-like pieces that are made into geometric shapes or designed to look like stones.
Durability
Concrete is not as durable as pavers. Because the concrete pieces are larger, it is easier for them to crack. Pavers have many joints (because the pieces are smaller), so they give more when heavy weights move over them, which you want in a driveway material. Pavers have a more-limited selection of designs and colors than stamped concrete.
Appearance
At first glance, stamped concrete and paver stones can look the same. It is only on closer examination that you might notice that all of the joints don't go completely through the stamped concrete or perhaps the stamped concrete might have more cracks in it.
Cost
Concrete usually has a lower cost per square foot. If you are on a budget, that makes this the affordable material to use in paving a driveway.
Maintaining
Concrete is harder to repair. If you simply patch a crack, it will probably be a different shade; if you replace the cracked section, you will be replacing a large piece. Pavers won't crack as often, but if they do, you only have to replace the unit that is broken. The high number of joints with pavers allow for good drainage of water and snow off the driveway.