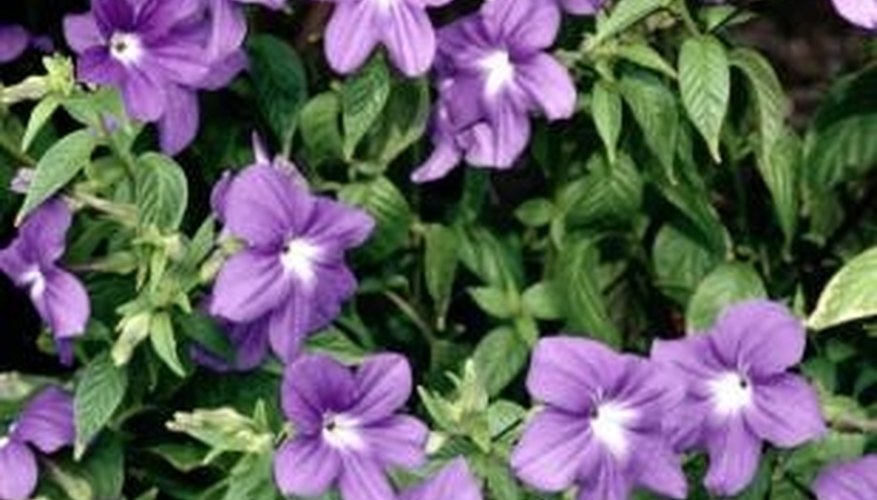 How to Kill Crown Vetch
Horticulturists know crown vetch as Securigera varia or Coronilla varia. You may have introduced the plant as a means of erosion control on sloping areas of your property. Since crown vetch spreads extensively---one plant may account for coverage of 70 to 100 square feet areas in just four short years--and grows a very strong root system, it is an excellent choice for this function. Unfortunately, these very properties also make the plant hard to get ride of. If you are thinking of introducing other plants to soil currently inhabited by crown vetch, you have to first learn how to kill this plant, since it is notorious for its domination of garden space.
How to Plant Crown Vetch
Step 1
Plant the crown vetch seeds in the spring. It's helpful if the soil can be worked first, but crown vetch will often grow by simply broadcasting it over the area, even over existing growth. It can be slow to start, taking up to two seasons to become established.
Step 2
Keep the crown vetch well-watered during the first couple of growing seasons, especially if you live in a dry climate. Once the crown vetch is established, it's fairly drought resistant.
Step 3
Clip the ground vetch once during the first growing season. This will control weeds while the seeds are getting established. After it reaches maturity, it can be grazed, or it can be mowed and used as hay.
Types of Low Lying Perennials for Ground Cover
Classification
The United States Department of Agriculture categorizes plants according to their cold hardiness. Further classification includes ornamental features and growing habit. Use plants suitable for a particular growing zone to ensure optimal performance.
Herbaceous Plants
The roots and crowns of herbaceous perennials survive winter frost while the tops do not. Returning each year, these plants can survive, with care, for many seasons or only last a few years. Crown vetch (Coronilla varia) grows to 1 to 2 feet high, thrives in dry climates and is hardy to zone 4. Pink flowers appear from May through September and extend up to 6 feet. Well suited for banks or wide open areas, crown vetch spreads rapidly and has invasive tendencies.
Evergreen Plants
Evergreen ground cover plants maintain colored foliage all year long. Pachysandra (Pachysandra terminalis), for example, is a vibrant evergreen that thrives in shady locations. Ornamental foliage provides seasonal color, turning from purple in the spring to bright green in the summer to yellow-green in the winter. Pachysandra is hardy in zones 3 to 9 and performs best if planted under taller shrubbery or trees for shade and protection.
Best Time to Seed Grow Crown Vetch
The best time to see crown vetch, used to stabilize soil and as an ornamental, is in early spring, between mid-March and mid-May.