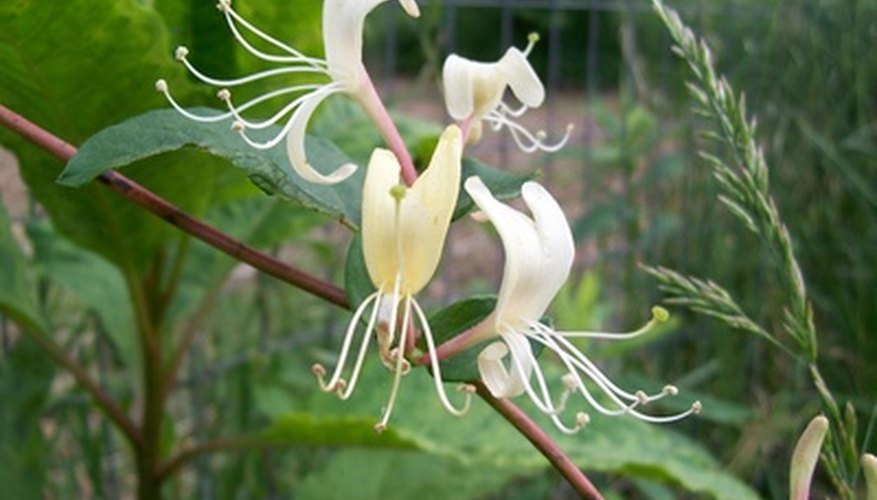 Nothing can say springtime better than the sweet scent of honeysuckle flowers. This vine plant not only attracts butterflies, but hummingbirds will compete for the sweet nectar. Honeysuckle is a perennial plant that will withstand cold temperatures during the winter. Once established, the climbing plant may prove invasive for some landscapes. According to the University of Illinois, vining plants such as honeysuckle should be planted in areas in which the plant is controllable. In other words, due to the spreading nature of honeysuckle, the plant will have to be pruned on a regular basis to control growth.
Install metal fence posts approximately 8 feet on center alongside the honeysuckle growing bed. The placement of the metal posts should be as close to the plants as possible. Pound the metal posts into the ground 8 inches to 10 inches deep using the 3-pound hammer.
Attach the woven wire fencing to the metal fence posts using the small gauge galvanized wire. Cut 6-inch long pieces of wire using the wire pliers.
Wrap a piece of the 6-inch wire around the post so it holds the woven wire fencing to the metal post. Twist the two ends of the wire together with the pliers. Attach the fencing to the metal posts every 10 inches to 12 inches down the length of the metal posts.
Allow the honeysuckle vines to work up the woven wire fencing. Guide errant vines that may begin to travel across the ground towards the fencing. In most cases, the woven wire fencing will begin to disappear, in approximately 3 years, due to the thick growth of honeysuckle covering the wire.
Prune the honeysuckle vine during the growing season when the vines begin to reach out in a horizontal fashion near the top of the woven wire fencing.
Mow on either side of the honeysuckle growing bed to keep the plant from spreading out across the ground.