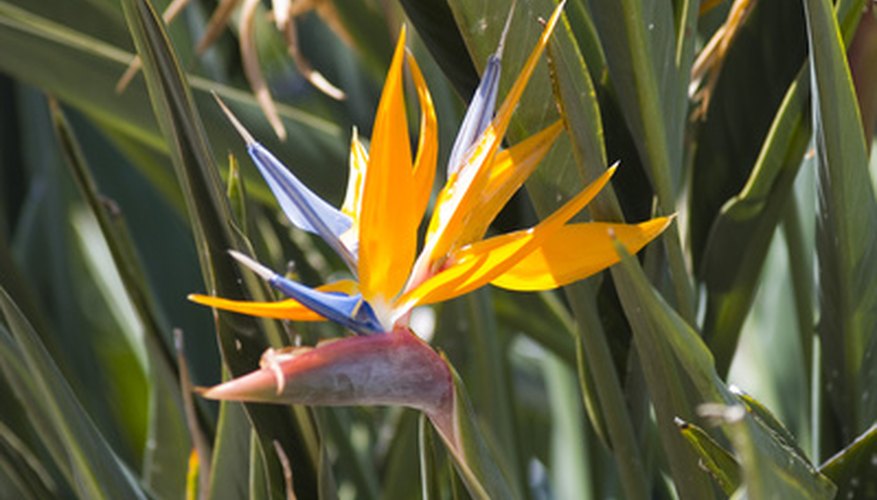 Facts About the Bird of Paradise Flower
Bird of paradise flowers are native to South Africa. The plant sends up colorful flowers on top of upright, stiff leafstalks that are 6 inches wide and about 18 inches long. The plants form clumps of leathery, evergreen leaves that cover 3 to 5 feet of ground.
Identification
The bird of paradise is also known as the crane flower. Its scientific name is Strelitzia reginae.
Features
The bloom is a combination of blue petals with orange sepals surrounded by a beak-shaped bract. The bird of paradise blossoms throughout the year. The flower will last up to two weeks when cut.
Production
Healthy, mature plants produce up to 36 flower spikes in a year. Plants in partially shady locations will produce larger blossoms than ones located in full sun.
Spacing
Bird of paradise flowers grow mainly along the edge of the leaf cluster. Space plants out by at least 6 feet to leave room for the flower spikes.
Maturity
A bird of paradise plant that starts as a seed will take three to five years to mature and produce flowers. Plants grown from offsets will mature in one to two years.
How to Water a Bird of Paradise
Plant Bird of Paradise in well-draining soil for best results. Each plant needs about 6 feet of space around it for good growth and multiple blooms.
Water often in the winter months to promote growth and flowering. Mulch will seal in moisture so the plant retains what it needs, including nutrients.
Use a water hose to saturate the plant almost daily and keep the ground damp. Mound dirt in a circle around the flower to keep water from flowing away from the plant. Make the circle about 10 to 12 inches out from the plant's stalks. Do not overwater, however. As long as the dirt remains damp, Bird of Paradise will grow and bloom.
How to Trim Dead Leaves on a Bird of Paradise
Step 1
Grasp the top of the dried, tan dead leaf with one hand and trace it down the stem to its point of origin at the base of the plant. Gently tug at the base of the dead leaf to determine how tightly it attaches to the plant. Sometimes a dead leaf may be jostled loose without pruning.
Step 2
Cut the dead leaf off with a bypass/hand pruners. Insert the pruners blades around the stem as low as possible, just above its attachment to the plant base.
Step 3
Discard the dead leaf into the compost pile or rubbish bin. Prune out up any dead leaf or old flower debris from the center of the bird-or-paradise. This decreases chances of any fungal diseases proliferating. Old, tan-colored leaf bases may jostle loose after they have dried over several months. Do not vigorously tug any part of the plant to remove plant parts, however. You may snap or twist off healthy leaves or flower stems in the process.
Meaning of Bird of Paradise Flowers
Significance
Bird of paradise is native to South Africa. It represents joyfulness and paradise.
Identification
The bird of paradise bears an unmistakable resemblance to a bird taking flight. It is also called a crane flower because of its look and resemblance to a crane.
Considerations
Bird of paradise is the flower for a ninth wedding anniversary. It can also be used in wedding bouquets because it symbolizes magnificence.
Potential
Bird-of-paradise flowers can also be used to indicate wonderful anticipation and excitement.
Function
Add bird-of-paradise flowers to any bouquet that you want to represent happiness. Bird of paradise works well with other types of tropical and summer flowers.
Does the Bird of Paradise Plant Like Full Sun?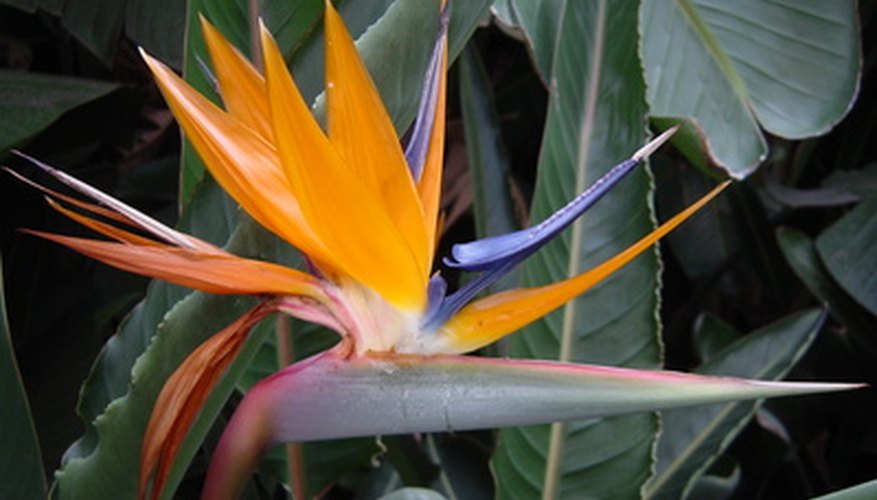 Native to South Africa, bird of paradise plants (Strelitzia reginae) grow in full sun or partial shade. Plants grown in full sun, however, are shorter, with smaller, shorter-stemmed blooms in larger numbers than plants grown in shade.
How to Feed a Bird of Paradise
Start fertilizing in the spring when the plant begins producing new growth. Use any standard fertilizer labeled for use with ornamental shrubs, administering as directed by the fertilizer's label since potency varies by product.
Water the bird-of-paradise immediately after fertilizing, moistening the soil to a depth of 6 to 8 inches. This helps carry the fertilizer's nutrients down to the plant's root level where it can immediately begin feeding the plant.
Pile 3 to 4 inches of mulch around the base of the bird-of-paradise shrub, leaving a 2 to 3 inch circular area around the stems clear of mulch to avoid the possibility of stem rot. Examples of suitable mulching material include aged compost and shredded leaves. Mulching helps to retain soil moisture to keep the shrub hydrated, and also delivers micronutrients to the plant's roots, according to the University of Hawaii.
Continue fertilizing the plant every three months during the growing season.
How to Grow Bird-of-Paradise (Strelitzia Reginae)
How to Cut Back a Bird of Paradise Plant
Sterilize a pair of gardening shears prior to cutting back to prevent the spread of disease. Rinse the shears in a solution of one part bleach to nine parts water.
Cut off the stem right above the nearest flower bud once the top flower withers and dies. Birds-of-paradise often produce two or more flower buds along a single stem, with each blooming at separate times.
Cut off the entire stem at the base once all blooming along the stem is completed.
Inspect the plant regularly for dead or damaged leaves. Cut these off where they emerge from the main plant.
How to Remove Bird of Paradise
Cut back the bird of paradise plant's dense stem and foliar growth using pruning shears, or a saw for larger stalks. Trim it down to a couple of inches above the ground.
Collect and discard the trimmed plant parts. Or chop the bird of paradise plant stems and leaves into inch-long pieces and add it to your compost pile.
Dig out the remaining bird of paradise stump with a spade, working the spade in a circle around the base of the stump to loosen it. As a low-labor alternative, treat the stump with a triclopyr-based or glyphosate-based stump killer herbicide. Apply the herbicide to all exposed surfaces of the freshly cut stump according to its labeled guidelines since toxicity varies widely by brand. This kills the stump and keeps the bird of paradise from resprouting.