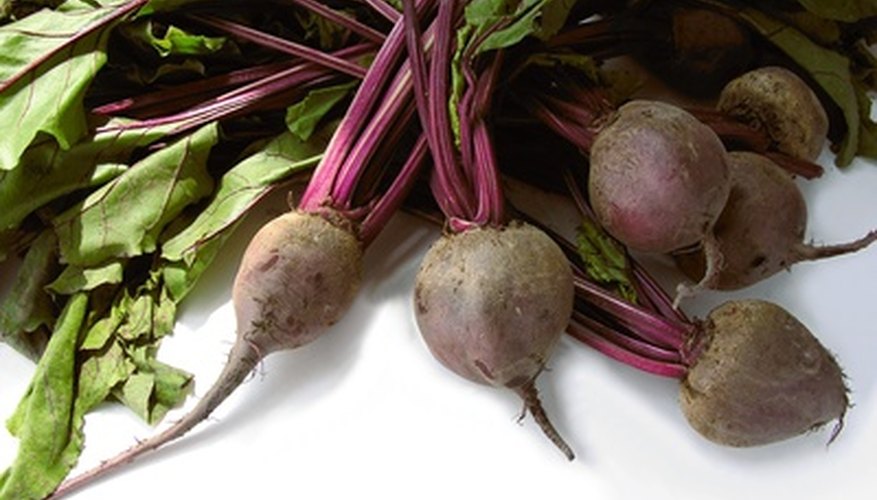 How to Plant Beet Seeds
Beets are a table vegetable loaded with vitamins A and C, as well as other important vitamins and minerals. If you are concerned with purchasing your beets from a producer that may use pesticides or other chemicals, grow your own instead. Beets like cool weather, so they can be planted early, and they do not require a great deal of attention. Planting beet seeds is a simple task that requires following just a few steps.
Dig rows for your beet seeds with a shovel or hoe as soon as you can begin working the ground, or at least 30 days before your last expected frost. Beet seeds germinate in cool weather, so it is the best time to plant them. Rows should be 6 inches wide and the soil should be loosened to a 3-inch depth. If you have more than one row, space them 12 inches apart. If you live in a dry climate, water the row before planting your seeds. In a northern, cooler climate, this step is not necessary.
Sow the seeds 1/2 inch into the soil, with 1 inch between each seed.
Cover the seeds with soil, but make sure there is no more than 1/2 inch to 1 inch of soil on top of them.
Thin the seedlings to 3 inches apart when they are 3 inches tall.
How to Grow Beets Indoors
Get a big plastic tub that's at least 16 inches deep. Drill a few small holes in the bottom, every 5 inches or so. Inexpensive clothes hampers work well.
Put the tub on top of a drain tray, and pour in at least 16 inches of rich, loose potting soil.
Poke a 1 inch deep hole in the soil every inch until you have a row that goes across the tub. If you have room, make a second row about 1 foot from the first. Drop three beet seeds in each hole and cover them with dirt.
Water the beets every day and keep them in full sun. The soil should not be drenched, but should always stay moist.
Watch the beets until your seedlings grow more than 3 inches tall. Remove slow-growing or sickly-looking beets so that you have one seedling about every 3 inches, rather than three seedlings every inch.
Grow the beets until they are ready to harvest. Follow the instructions on the seed packet. Most beets take between 40 and 80 days to reach maturity.
Gently pull the beets out of the ground by their stalks. Twist or cut off the leaves and prepare the beets.
How to Fertilize Beets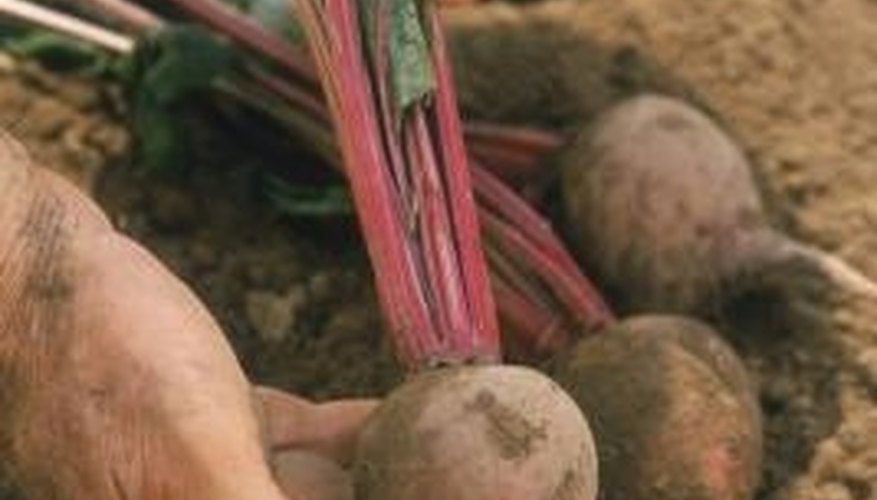 Test the soil pH, following the instructions for the soil test kit you purchase. Beets grow best in soil with a pH between 6.0 and 6.8.
Add agricultural lime to the soil at the rate recommended by the test to bring the soil into the proper pH range. Apply lime at least 30 days before planting. Work the lime into the top 6- to 8-inches of soil.
Sprinkle 3 lbs. of a 5-10-10 or 10-10-10 fertilizer blend and ½ oz. of borax over every 100 square feet of beet bed, one week before you plant. Cultivate the fertilizer into the top 6 inches of soil.
Apply 3 oz. of fertilizer to every 100-foot row, two weeks after the beets germinate. Sprinkle the fertilizer down the row, approximately 6 inches away from the base of the plants.
Fertilize the beets again four weeks after planting if growth is slow or week. Apply 3 oz. of fertilizer per 100-foot row, sprinkling the fertilizer down the row, approximately 6 inches away from the base of the plants.
When to Fertilize Vegetables
Fertilize beets and carrots 4 weeks after planting; broccoli when heads show; onions when the tops are 6 inches tall; and tomatoes, peppers and eggplants in early July.
When to Harvest Beets
Harvest the purplish-red roots of beets before they grow larger than 3 inches in diameter. Beets larger than that are less sweet and have a tougher consistency. Harvest beet greens when they have grown to 6 inches tall.
Canning Beets
Selecting Beets:
You'll need about three pounds of beets per quart.
A Bushel of beets will yield 15-20 quarts.
Choose small beets if canning whole. Beets larger than three inches are usually too fiberous.
Preparation:
Trim tops off of beets, leaving an inch of stem and roots to reduce bleeding of color. Scrub well. Cover with boiling water. Boil until skins slip off easily; about 15 to 25. Cool, remove skins, and trim off stems and roots. Leave baby beets whole and cut medium or large beets into 1/2-inch cubes or slices. Add 1 teaspoon of salt per quart to the jar. Fill jars with hot beets and fresh hot water, leaving 1-inch headspace. Adjust lids and process as follows:
Quarts:
Process 30 minutes at 12 pounds pressure.
For altitudes over 2,000 feet increase pressure to 13 pounds.
For altitudes over 4,000 feet increase pressure to 14 pounds.
Pints:
Process 30 minutes at 10 pounds pressure.
For altitudes over 1,000 feet increase pressure to 15 pounds.
How to Grow Sugar Beets
Prepare the garden space. Beets will grow in most any type of soil but prefer a well-drained sandy loam. The looser the dirt in the bed, the larger the sugar beet has room to grow. Add compost or seasoned manure to give the garden soil a nutrient-rich base.
Make rows in the bed approximately 1/2 inch deep and a foot apart. Plant the seeds every 3 to 4 inches. Cover with a half-inch of soil.
Thin the seedlings when they are 3 to 4 inches high. The greens can be cooked like spinach or chopped and tossed into salads.
Harvest the sugar beets when they reach the desired size. Sugar beets are the sweetest when harvested small at around 1 to 1 1/2 inches in diameter.
Allow the beets to sit on top of the ground for a day to begin the curing process for winter storage. Store the sugar beets in a dark basement or root cellar. Beets will usually keep for 3 to 5 months after harvest.