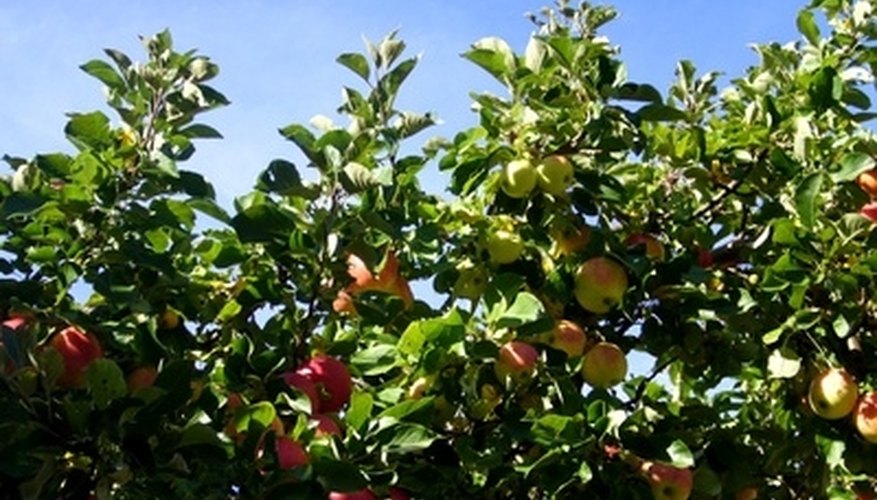 Insecticide spray treatments are important in the upkeep of healthy apple trees. Many insects are attracted to apples, into which they burrow deeply, leaving the fruit distorted beyond recognition at times. At the first sign of pest infestation, spray treatments must be applied to completely neutralize the pests and plans for timely follow-up spraying should be initiated to keep the trees free of insects.
Spraying Apple Trees
Some insecticides once used for halting apple maggot infestation have been discontinued, according to the University of Minnesota Extension office. Diazinon and dimethoate insecticides are no longer available for apple management, the article notes.
Gardeners may still obtain insecticides containing carbaryl, but it is in fewer products than in the past, the extension notes. It recommends products containing esfenvalerate and urges attention to restrictions for use. Esfenvalerate is sometimes limited to treating only young apple trees.
When properly applied, insecticide sprays kill flies before they are able to lay eggs, but once the eggs exist, sprays are ineffective, the extension says. Spraying must cover all surfaces of fruit and leaves, but not before July 1, the article advises.
Follow the guidance on the label with regard to a safe interval of time between the last spray and harvest, the extension warns. Sufficient time must be allowed for insecticide residues to break down.
The extension recommends spraying every 10 to14 days beginning July 1.
Spherical Sticky Traps
The extension recommends spherical sticky traps to help determine when spraying is necessary. Place one trap at eye level on the south side of each apple tree by July 1, the extension advises. Spray when at least five apple maggot flies have been trapped in one week. Apple maggots may be distinguished from other trapped insects by the black and white pattern on the wings and the white spot.
Spraying at Blossom Drop
Ron Smith, horticulturist at North Dakota State University, recommends the use of an insecticide containing cabaryl at apple blossom drop and again in 10 to 14 days to eradicate worms in apples. Spray two more times after that, he says.
He suggests placing two or more pheromone traps in larger trees. Smith recommends the use of plastic mock apples that are covered with a tanglefoot type of material to catch the insects. The fake apples, he says, may contain pheromone that will attract the female adult insect, causing it to later die of dehydration after being trapped.
Sex pheromone traps lure male insects into the traps in pursuit of a female. Smith recommends this method of eradication to lessen the use of insecticides.
Remove Soft Scale Insects
Use lightweight horticultural oil to remove soft scale insects from branches of your apple tree, Smith says. The insects leave a white, powdery substance that turns reddish-brown when it is wiped, he adds, explaining that the reddish-brown discoloration is actually blood from the insects' crushed bodies.
Spray horticultural oil carefully on the affected areas, Smith advises, pointing out that the oil will smother the insects. More potent products are available, but he recommends their use only when absolutely necessary.
Spray Schedules Must Be Adopted
Schedule spraying before the trees start bearing fruits. If apple maggots are already present, spray as soon as possible. Consult with neighboring apple growers so that treatment of as many affected orchards as possible may be accomplished at one time.