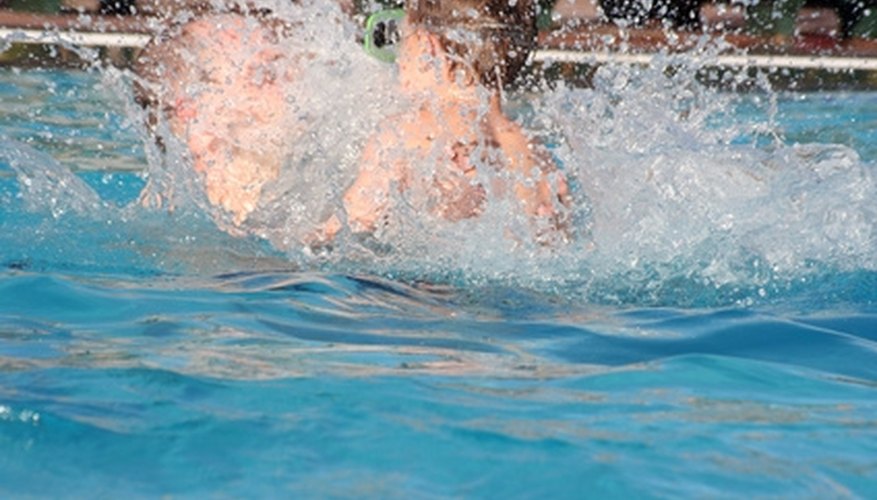 As most pool owners know, maintaining the proper chlorine levels in swimming pools can sometimes be a bit of a challenge. Chlorine sanitizing is an essential part of keeping that sparkling blue pool water clean and safe for swimmers. The chemicals in chlorine are known as antimicrobial pesticides or in other words, chemicals that kill disease-carrying microscopic-sized organisms. Pool chlorine comes in the form of tablets, granules or sometimes a liquid.
History
Carl W. Scheele, a Swedish chemist, is credited with being the first person to discover, prepare and study gaseous chlorine in 1774. Scheele discovered that chlorine gas could be dissolved in water and used to bleach vegetables, paper and flowers. In 1811, Sir Humphry Davy, an English chemist, announced that chlorine was in fact an element. The name chlorine was taken from the Greek word chloros, meaning pale green, which is the color of chlorine gas.
Identification
The chemicals used in swimming pools that contain chlorine are typically calcium and sodium hypochlorite. A number of other household products also contain chlorine, but in much different concentrations. Some household cleaners may contain 2 percent chlorine and bleach contains 5 percent. In comparison, pool chemicals may contain 12 to 95 percent chlorine, since they are meant to be diluted to safe levels with lots of water.
Types
When measuring chlorine levels in swimming pools, there are three different types or aspects of chlorine to measure. The most important measurement where pool water is concerned is the "free available chlorine" (residual chlorine), which indicates the amount of chlorine that is available for disinfecting and sanitizing. When the free available chlorine is too low, bad-smelling, irritating compounds form in the water known as "combined chlorine." Another measurement is the "total chlorine" in the water, which consists of both the free available chlorine and the combined chlorine.
Significance
If the chlorine level in the pool is too low, it can result in cloudy water and inadequate sanitation. Low chlorine encourages the growth of bacteria, algae and waterborne illnesses. When chlorine levels in swimming pools are too high, irritations of the skin, nose and eyes can occur. Chlorine is a known carcinogen (cancer-producing substance) so the goal should be to keep it at the minimum required level for total disinfection.
Prevention/Solution
Keep in mind the three aspects of chlorine to be measured when purchasing a chlorine test kit. Test kits that use tablets instead of a liquid reagent (chemical agent used in chemical reactions) are more accurate and easier to use. In order for the test to measure the free available chlorine, you need to make sure the tablets are "DPD" (N, N-diethyl-p-phenylenediamine). DPD tablets are the only ones that will measure the free available chlorine. A water sample should be taken from approximately eight to 12 inches below the surface and at least the same distance from the wall of the pool. Test the water according to the directions in the test kit and you will find out if your chlorine level is sufficient, lacking or too high.