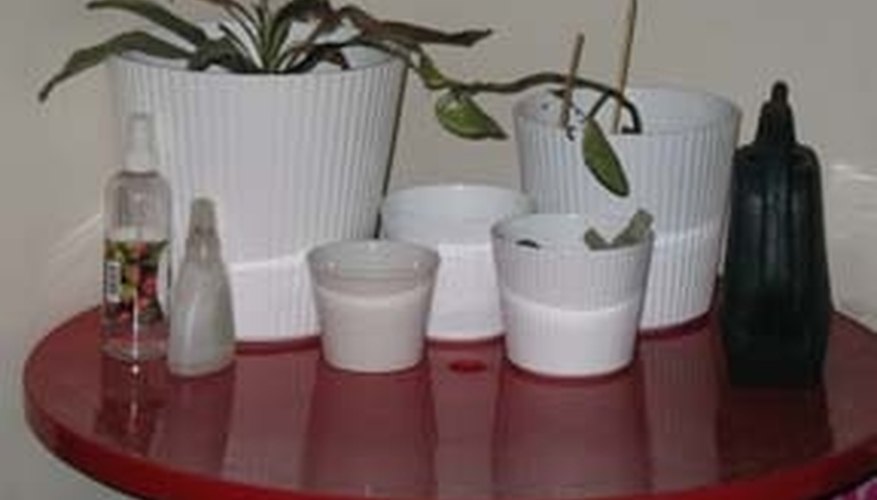 Plant pot sizes can affect how a plant thrives. Plants are very fragile and require a certain amount of room in order to grow properly. If a plant is in a pot that is too large, it may grow too fast and therefore inhibit proper production. If a plant is in a pot that is too small, the plant might become root bound, which can stunt the growth of the plant.
Growth
A plant's growth may be stunted, if it is kept in a pot that is too small. The nutrients in the soil will be absorbed quickly, and will not be sufficient to allow proper growth. The spreading roots will eventually take up all the soil space, and deplete the nutrients needed to sustain survival.
If a plant is in a pot that is too big, there is a danger of the plant growing too fast. The plant will not absorb the nutrients in the soil properly, which could cause the leaves to yellow and fall off.
Fruit or Flower Production
Fruit or flower production may be affected if a plant is kept in a pot that is too small. The plant may grow to its expected height, but the amount of fruit or flowers may be hindered by the lack of nutrients and vitamins absorbed from the soil. This will cause smaller fruit or flowers, or very low production. The plant may grow normally, but become root bound, and there may be no fruit or flowers produced at all.
Watering
If a small plant is put in a large pot, the soil will stay wet for longer periods of time. This may cause the plant to become waterlogged. If allowed to continue to sit in the wet soil, the plant could acquire root rot. A constant wet environment also allows mold and fungus to grow, which can kill the plant.
If a plant is in a pot that is too small, underwatering could occur. Roots need the nutrients from the soil and moisture to grow. If the roots of the plant have been allowed to intertwine, or become root bound, they are unable to properly absorb the nutrients and moisture from the soil.
Plants That Need To Be Root Bound
Most plants need room for root expansion, but there are plants that do better when they are root bound, such as the spider and aloe plants. These plants will not produce offshoots unless the roots are in a cramped space. Try to keep the root ball intact as you move the plant from one pot to another, once the root system has taken over the pot and there is no room for soil.
Caring for a Plant
Read the directions and planting information that come with your plant. This information will tell you how big your plant is expected to get, when to repot your plant, how much water is required for proper growth, and if fertilization is required at regular intervals.